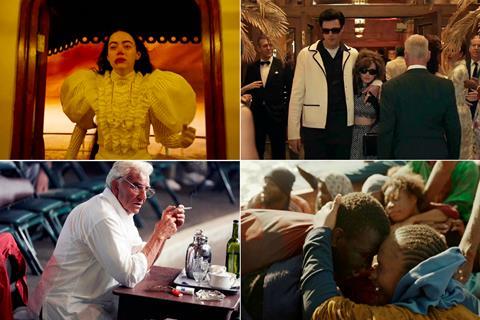 The line-up for the 80th Venice film festival (August 30-September 9) was unveiled today by artistic director Alberto Barbera and Venice Biennale president Roberto Cicutto.
Screen rounds up the major talking points from this year's selection, including potential star power on the red carpet amid the strikes and another robust Netflix presence.
Will any A-list actors or directors actually be on the Lido?
With several major US titles in the selection, the question now is which US talent will attend due to the WGA and SAG-Aftra strikes that do not permit members to promote projects in which the US streamers and studios are involved. Barbera only specified one star who will not be on the Lido – Emma Stone, the lead in Yorgos Lanthimos' sci-fi Poor Things for Searchlight Pictures – but it is highly unlikely Stone will be the only no-show. At least one of her co-stars, Mark Ruffalo, has been prominent in his support of both of the strikes. With Disney-owned Searchlight Pictures involved in the film, as it stands no SAG member will be able to attend the Venice premiere (and Searchlight promptly postponed the title's September 8 US release date to December 8).
Further US titles in Competition include Sofia Coppola's Priscilla, Ava DuVernay's Origin and Michael Mann's Ferrari. Backed respectively by independent companies A24, Array Filmworks and STX, and Neon, the films could potentially receive the exemption waivers SAG-Aftra has started to roll out. The actors in the films include Adam Driver, Shailene Woodley and Patrick Dempsey for Ferrari; Priscilla's Cailee Spaeny, Jacob Elordi and Dagmara Dominczyk; and Origin's Aunjanue Ellis-Taylor, Jon Bernthal and Vera Farmiga. But even if participation is ratified by the necessary bodies, actors and writer-directors may choose not to attend the festival in solidarity with their striking colleagues.
On the other hand, it is possible such high-profile talent will want to provide valuable support to independent projects at a crucial moment in their rollout, combining that with drawing attention to the strikes on the international stage.
Netflix holds its nerve
Does Netflix know something its fellow US streamers and studios do not? Or is the profile offered by a Lido premiere, even one with no attending US talent, just too invaluable to miss for a platform with a lot of content to drop? Netflix's love affair with Venice is continuing unabated in this strike-hampered year. Two big US Netflix titles are screening in Competition: Bradley Cooper's Maestro, starring Cooper with Carey Mulligan, and David Fincher's The Killer, starring Michael Fassbender and Tilda Swinton. JA Bayona's Spanish production Society Of The Snow is the closing film, while Wes Anderson's 40-minute short The Wonderful Story Of Henry Sugar is screening out of competition. With the exception of Searchlight's Poor Things, no other streamer and studio has a film in official selection.
Society Of The Snow will not be impacted but it's hard to see how any of the actors, writers and directors involved in Henry Sugar, Maestro and The Killer, apart from Fincher, will be able to walk the Venice red carpet (The Killer is written by Alexis Nolent and Andrew Kevin Walker). Unless a deal is done in time. Could Netflix's co-CEO Ted Sarandos, whose recent public comments on the strikes is judged to have hit all the right notes, be the one to step in and help negotiate a deal? Or is that mere wishful thinking?
Roman Polanski and Woody Allen (again)
To the surprise of few but the disappointment of many, Barbera has selected two controversial directors: Roman Polanski's black comedy The Palace and Woody Allen's thriller Coup De Chance are both screening out of competition. Switzerland-based Polanski pled guilty to unlawful sex with a 13-year-old child in Los Angeles in 1977, although he fled the country and has never stood trial. New York-based Allen has been accused of sexual abuse by his daughter Dylan Farrow. Allen has denied the allegation and has never been charged.
Venice has long extended the hand of friendship to both filmmakers: Polanski's previous film An Officer And A Gentlemen debuted at the festival in 2019, going on to win the Silver Lion, and his 2011 film Carnage also premiered on the Lido. Allen was honoured by Venice in 1995 but his career has stalled in recent years following the accusations and Amazon pulled out of a deal with the filmmaker. His previous film Rifkin's Festival debuted at San Sebastián.
Barbera did not reference the controversies, instead describing "the role of chance in our lives" in a similar vein to Allen's 2005 film Match Point, whilst Polanski's New Year's Eve-set comedy "features grotesque and surreal characters and satirises individuals unaware of their lack of humanity and social commitment".
Discussing Polanski's previous film with Screen in 2019, he said: "We've got to make a distinction between the man and the artist, otherwise we're doomed."
Luc Besson's action drama Dogman is also in Competition. The filmmaker was accused of sexual misconduct by nine women in the French media in 2018, with actress Sand Van Roy pressing formal charges for rape. Besson was cleared of all charges earlier this summer, concluding a long legal battle.
Poor showing for women directors
Barbera continues his streak of programming just five female directors out of the 23 films screening in Competition – consistent with the last two editions of the festival. In comparison, both Cannes and Berlin managed to squeeze six women into smaller selections this year.
Three of the selected directors make a return to the Lido. Sofia Coppola marks her third appearance with Priscilla. It is her second time in Competition since winning the Golden Lion in 2010 for Somewhere. Polish director and Venice regular Agnieszka Holland is bringing the The Green Border, about the Syrian refugee crisis at the Polish-Belarusian border. Belgium's Fien Troch is back with Holly about a girl who has unique powers, having previously won best director in 2016's Horizons with Home.
Meanwhile, US director Ava DuVernay is the only Black feature filmmaker in Venice's official selection this year and the first Black female director from the US to screen a film in Competition. (France's Alice Diop was the first Black woman director to be selected for Competition in 2022.) Origin explores the history of racial hierarchy in America and features a cast including Aunjanue Ellis-Taylor, Nick Offerman and Jon Bernthal.
Finally, Malgorzata Szumowska co-directs the second Polish film in Competition with Michal Englert called Woman Of which follows a transgender woman's journey with her identity.
Out of the selection announced thus far, 30% of the films are directed by women with Barbera admitting at the line-up conference that "we are still far from the gender parity we all hope for – it is a slow process that is however going on".
A strong Italian (male) presence…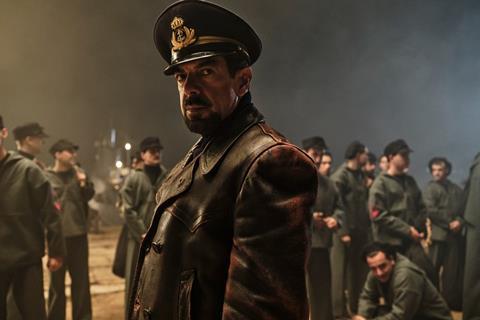 There are more Italian films than usual at this year's festival. Six out of the 23 films playing in Competition are Italian, including the festival's opening selection Edoardo De Angelis' World War Two submarine drama Comandante – promoted to the slot after Amazon yanked Challengers in the wake of the strikes. Last year, Venice programmed four Italian films in Competition. While a decent indicator of the vibrancy of the Italian production sector, it is also likely the number of Italian films screening this year received a further boost from the US writers' and actors' strikes and the unavailablity of certain US titles.
Further Italian films in Competition this year are Pietro Castellitto's second feature Enea, Saverio Costanzo's big- budget Finally Dawn, Giorgio Diritti's Lubo, Matteo Garrone's Io Capitano and Stefano Sollima's Adagio. There are two other Competition films with strong Italian links: Coppola's Priscilla is produced by Lorenzo Mieli of leading Italian production outfit The Apartment, while Michael Mann's Ferrari is Italian-themed. The biopic of the Italian driver and entrepreneur Enzo Ferrari stars Adam Driver and Penelope Cruz and filmed in Italy last year.
Italian films are liberally sprinkled elsewhere in Venice's official selection: Italian fiction films playing Out of Competition are Luca Barbareschi's The Penitent, Liliana Cavani's L'Ordine Del Tempo and Leonardo Di Costanzo's short Welcome To Paradise. Horizons includes Italian features Enrico Maria Artale's third film El Paraiso, Simone Massi's animation Invelle and Alain Parroni's debut Una Sterminata Domenica.
Of all those Italian films, only two are directed by women.
…But a soft showing for the UK
The UK's presence this year is on the shy side, with no UK directors, and just one UK-produced title in Competition – down from last year's three: Greek director Yorgos Lanthimos' Poor Things. The feature is a UK-Ireland-US co-pro from Element Pictures and Searchlight Pictures, with Film4 backing.
In Horizons Extra, the UK is represented by filmmaker Jack Huston, who directs the US title Day Of The Fight. It is the directorial debut from the Boardwalk Empire actor, and follows a boxer on a journey of redemption after leaving prison; Ron Perlman and Joe Pesci star.
Pet Shop Boys, the debut from Olmo Schnabel, also plays in Horizons Extra. The New York-set romantic thriller stars Willem Dafoe and Peter Sarsgaard and is a co-production between Italy, the UK and US, with Marie Savare de Laitre producing for the UK's Storyteller Productions.
However, Critics' Week does have a strong UK showing. Two out of the seven features in its competition are directed by UK filmmakers and produced out of the UK, plenty of them former Screen Stars Of Tomorrow. Luna Carmoon's debut feature Hoard, produced by Loran Dunn, Helen Simmons and Andy Starke, will bow here, as will Moin Hussain's sci-fi Sky Peals, produced by Michelle Stein of Escape Films.
Here come the nonagenarians
For its 80th edition, Venice has selected several directors with over half a century of filmmaking behind them. At the age of 93, Frederick Wiseman is older than the festival itself, which held its first edition in August 1932. The revered US documentarian is out of Competition with Menus Plaisirs – Les Troisgros. Only slightly more junior is Italian stalwart Liliana Cavani; the 90-year-old Capri native is also out of Competition with Italian-Belgian co-production L'Ordine Del Tempo.
Other experienced names playing at the event include Polanski (90 in mid-August), William Friedkin (turning 88 the day before the festival starts), Woody Allen (87), Yervant Giankian (81) and Michael Mann (80).
Festivals are endurance tests for even the sprightliest attendees; it will be a challenge for those of reduced mobility to make the trip to Venice, where early September temperatures can cross 30 degrees Celsius and traversing the city requires getting on and off a selection of small boats. On the other hand, Venice provides the highest level of comfort for its guests; all selected directors will want to make it to the city nicknamed La Serenissima (translation: 'the most serene').
At the other end of the scale, the junior name of this year's competition is 31-year-old Pietro Castellitto, with his second film Enea; while the youngster of the entire selection is 22-year-old Luana Bajrami, the Kosovo-born French actress and filmmaker with Horizons Extra title Bota Jone – and who was not born when Alberto Barbera headed his first Venice as artistic director in 1999.