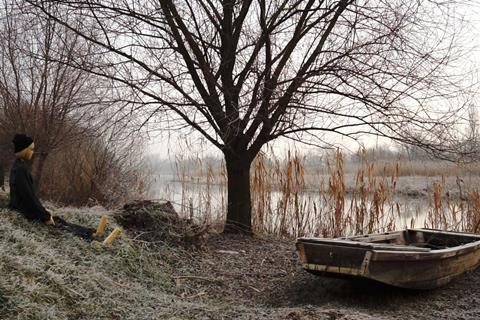 Egyptian director Sherif El Bendary's female suppression drama Spray and Iraqi director Koutaiba Al-Janabi's experimental thriller The Woodman shared the top $20,000 Badya prize at the fifth edition of the Cairo Film Connection, running Nov 26-28.
The co-production platform, at the heart of the Cairo International Film Festival (CIFF) industry programme (Nov 20-29), showcased 16 projects from across the Arab world, 10 in development and six in post-production.
The winners were representative of the increasingly adventurous and diverse stories and styles emerging out of the Arab world's burgeoning indie film scene.
El Bendary's Spray explores the attitudes of Egyptian society towards women through the tale of Dalia, a liberal-minded, working wife and mother whose life takes an unexpected turn when someone anonymously sprays the word "whore" on her car.
This seemingly small act of vandalism sends Dalia's life into a tailspin as she finds her life under scrutiny from all sides.
It is the second feature from El Bendary after his whacky, well-received debut Ali, The Goat, And Ibrahim about a man who sets off on a journey of self-discovery across Egypt in the company of his beloved pet goat.
Al-Janabi's The Woodman is an experimental thriller with a life-size wooden dummy as the protagonist. It delves into themes of being an outsider and searching for home, explored in other works by the director, who divides his time between London and Baghdad. It is Al-Janabi's third feature afterLeaving Baghdad and Stories of Passers Through.
In other key awards, Jordanian director Amjad Al Rasheed, a former Screen International Arab Star of Tomorrow, won the $10,000 ART (Arab Radio and Television Network) prize for his project Inshallah A Boy. The black comedy revolves around a young widow in a battle to stop her brothers-in-law seizing her home under Sharia-based inheritance laws.
In other prizes, the $10,000 Front Row/ Cinescape award went to Once Upon A Time In Tripoli by Libyan filmmaker Abdullah Al-Ghaly,a fast-paced drama about three friends who turn the tables on a group of militants, who stole one of their cars, but in the process find themselves in possession of a truckload of Africans hoping to get to Europe.
In a non-cash award, Egyptian director-producer Mohamed Taher will attend the International Film Festival Rotterdam's Rotterdam Lab, aimed at emerging film producers, in January, as the recipient of an invitation backed by the Arab Cinema Center.
His documentary project The Fountain of Bakhchisarai revolves around Egypt's first prima donna ballerina Magda Saleh and her attempt to recreate her first ever performance in the 1960s and reunite with the four other dancers who joined her on stage that night.
Post-production
In the post-production awards category, the top $50,000 prize – meted out as a licensing agreement by pan-Arab broadcaster OSN – went to Tunisian filmmaker Majdi Lakhdar's drama Before It's Too Late. It follows a tailor in a race against time to save himself and his family after they become trapped in an underground chamber beneath their home when it unexpectedly collapses.
Other winners in the post-production section included Syrian director Zeinah Alqahwaji's Damascus-set documentary Crystal House capturing the lives of an elderly Damascene couple as they watch their country descend into civil war and the world as they knew it disintegrate.
Strong industry presence
Jury members this year comprised Egyptian producer Gabriel Khoury, managing director of major Egyptian film company Misr International Film, Tunisian industry mover and shaker Dora Bouchoucha and Palestinian director Annemarie Jacir.
"This year's edition was very special because of the presence and enthusiasm of numerous accomplished industry professionals who attended and met with the projects," commented CFC manager Maggie Morgan.
The 40th edition Cairo International Film Festival draws to close on Nov 29.
The full list of CFC prizes
Development
Badya ($20,000) ex aequo Spray, Sherif El Bindary (Egypt), The Woodman, Koutaiba Al-Janabi (Iraq)
ART ($10,000) Inshallah A Boy, Amjad Al Rasheed (Jordan)
New Century ($10,000) We are Inside, Farah Kassem (Lebanon)
Arabia ($10,000) Severed Head Lotfi Achour (Tunisia)
Iraqi Cinema ($5000) Longer Will be the Night, Latifa Said (Algeria)
Front Row/Cinescape ($10,000) Once Upon A Time In Tripoli- Libya, Abdullah Al-Ghaly (Libya)
Arab Cinema Center invitation to attend Rotterdam Lab, The Fountain of Bakhchisarai, Mohamed Taher (Egypt)
Post-production
OSN Licensing Agreement ($50,000) Before It's Too Late, Majdi Lakhdar (Tunisia)
Ergo ($15,000) Crystal House, Zeinah Alqahwaji (Syria)
Aroma post-production colour correction and DCP package, My Mohamed is Different, Ines Marzouk (Egypt).