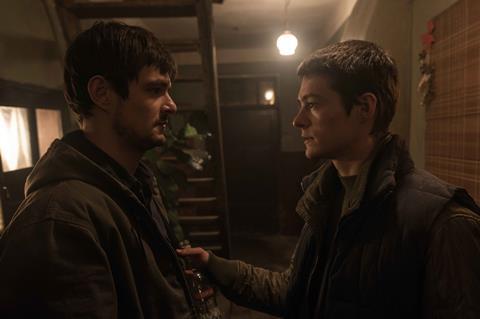 Piotr Domalewski's Silent Night won the top prize at the 42nd Polish Film Festival (Sept 18), the Grand Prix Golden Lions, which came to a close in the Baltic port of Gdynia on Saturday (Sept 23).
Accepting his statuette, producer Jacek Bromski said that this was the first time that the Polish Filmmakers Association's production arm Studio Munk - which was set up in 2008 to support the production of short and feature-length debuts - had ever received the Golden Lions award.
The main competition jury, which was headed by veteran director Jerzy Antczak, awarded the prize for best actor to Silent Night star Dawid Ogrodnik for his central performance as an economic migrant planning to finally break ties with his homeland.
In addition, Domalewski's debut had already received another five awards ahead of the festival's closing ceremony including the Journalists Award and prizes from the Arthouse Cinemas Network and the Polish Federation of Film Discussion Clubs.
This year the new generation of Polish feature filmmakers made a strong impression at the festival. The Grand Prix winner was one of eight feature film debuts in the Main Competition's 17-title line-up including Bosnian-born Denijal Hasanovic's Catalina, Pawel Maslona's Panic Attack, and Konrad Lecki's The Damned One.
Women filmmakers
Women filmmakers were also out in force at Gdynia this year.
As jury member Pawel Pawlikowski observed when presenting the best director award to mother and daughter directing team Agnieszka Holland and Kasia Adamik for Spoor, it had been "surprising" how many of the screened films had been made by women – from Kasia Adamik's thriller Amok to Maria Sadowska'a box-office hit The Art Of Loving.
Indeed, the achievements of 11 women working in various categories – from direction through to editing and costume design – were recognised on the stage of Gdynia's Musical Theatre on Saturday evening.
The Silver Lions Award went to Joanna Kos-Krauze for Birds Are Singing In Kigali which had premiered in July at the Karlovy Vary International Festival. That film's stars Jowita Budnik (who also appears in Silent Night) and Rwandan-born Eliane Umuhire shared the honours for best actress in a leading role, while Katarzyna Lesniak picked up the best editing award.
In her acceptance speech, Umuhire spoke about how art can build bridges between people and dedicated the prize to the memory of Kos-Krauze's late husband Krzysztof Krauze and DoP Krzysztof Ptak, who both passed away during the making of the film.
Elsewhere, Jagoda Szelc received the best debut and best screenplay awards for Tower. A Bright Day. Agata Culan was recognised for her costume design on debutant Maciej Sobieszczanski's intimate drama The Reconciliation.
Meanwhile, Urszula Antoniak's Beyond Words - which is being handled internationally by Global Screen and premiered in Toronto before screening in San Sebastian this week - picked up honours for best cinematography and best sound.
Audience pleaser
A popular title in this year's main competition was Lukasz Palkowski's The Fastest, which picked up the audience award as well as Radio Gdansk's Golden Claquer Award, which recognises the longest-lasting round of applause after a film's first screening at the festival.
Based on the true story of former drug addict turned sportsman Jerzy Gorski who won the title of Double Ironman champion, The Fastest also received the Main Competition Jury's prizes for Best Acting Debut (Kamila Kaminska) and Best Art Direction.
The seemingly ubiquitous actor Jakub Gierszal - who appeared in four competition titles The Fastest, Beyond Words Spoor and The Reconciliation – was presented with Melbourne-based Puma Film's Golden Kangaroo Award.
Political tone
The award ceremony inevitably took on a political dimension as several prize-winners expressed their concerns about the policies now being pursued by the ruling Law and Justice political party in Poland, and their impact on the arts world.
In a letter read by her daughter after receiving the Best Director Award, veteran filmmaker Agnieszka Holland said that it was important "now more than ever" to defend artists' freedom and she dedicated her award to all those fighting for causes at home and abroad like Janina Duszejko, the protagonist of Spoor.