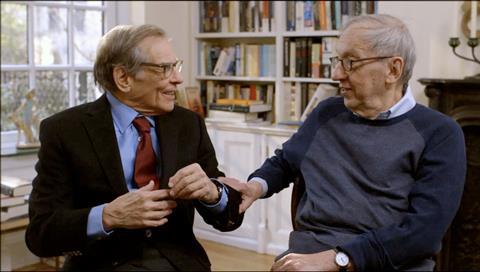 Sony Pictures Classics has acquired all worldwide rights from Cinetic Media to Tribeca selection Turn Every Page – The Adventures Of Robert Caro And Robert Gottlieb.
Lizzie Gottlieb directed the film, which premiered in Spotlight Documentary over the weekend and screens again today (June 15) and on Saturday and Sunday. Gottlieb produced alongside Joanne Nerenberg and Jen Small and Topic Studios in association with Left/Right.
Turn Every Page centres on the lifelong friendship between Pulitzer Prize-winning writer Robert Caro and legendary editor Robert Gottlieb. Now 86, Caro is working to complete the final volume of his masterwork, The Years Of Lyndon Johnson as Gottlieb, 91, waits with his red pen.
Executive producers are Christine Connor, Ryan Heller, outgoing Topic Studios president Maria Zuckerman and Michael Bloom of Topic, Ken Druckerman, Banks Tarver, Kevin Vargas of Left/Right, and Nion McEvoy and Leslie Berriman.
Sony Classics said, "Lizzie Gottlieb has made a wise and in-depth love letter to one of the most incredible collaborations in literary history. Not only do we eavesdrop on their working process but revelations about Robert Moses and LBJ abound."