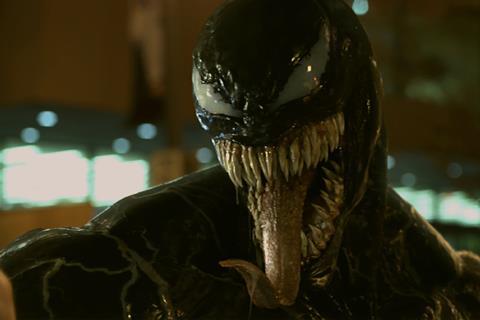 Sony Pictures has pushed back the US release of Venom: Let There Be Carnage from September 24 to October 15 amid a surge in the Delta variant across parts of the United States.
Studio executives are being cautious as they track a spike in pandemic cases, which health officials have said are mostly among unvaccinated people. The studio has been a vocal advocate of theatrical releases where possible during the pandemic and wants to ensure box office prospects are maximised at a time of ongoing hesitancy over returning to cinemas.
New York state is bringing in a vaccine mandate for public indoor entertainment spaces on Monday (August 16), and LA City councillors have tabled a similar proposal that will require cinema patrons to show proof of at least a partial vaccination.
Tom Hardy reprises his title role in the sequel to the 2018 original Venom, which became a surprise global hit when it grossed more than $850m.
Andy Serkis directs the Spider-Man spin-off and the cast includes Michelle Williams, Naomie Harris and Woody Harrelson as the villain Cletus Kasady AKA Carnage.
At time of writing Sony had not confirmed the plan for Hotel Transylvania 4, which is currently scheduled for October 1 after it was pushed from the summer. Reports say it could go to a streaming platform. Netflix would be the most obvious destination as the platform has an output deal with Sony Pictures Animation, and a multi-year, exclusive pay 1 US licensing deal for Sony's theatrical releases that starts in 2022.
This weekend Disney releases the Fox action adventure Free Guy starring Ryan Reynolds and Jodie Comer exclusively in cinemas for a 45-day run. The strategy is in contrast to Disney's day-and-date releases of Black Widow and Jungle Cruise and will be watched closely to determine the readiness of audiences to return to cinemas without an alternative way of watching the film.
Free Guy is projected to gross between $15-18m. Anything above $20m would be regarded as a success.