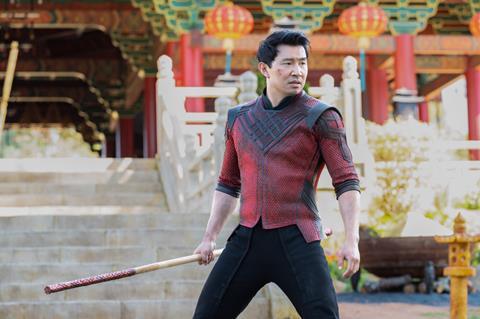 Shang-Chi And The Legend Of The Ten Rings and Free Guy will get 45-day exclusive theatrical windows before they debut on digital platforms in autumn.
The distribution plan, announced in Disney's second quarter earnings report on Thursday (May 13), marks the studio's first theatrical-first releases of the year and appears to consolidate 45 days as the new exclusive theatrical window industry standard.
Marvel Studios' Shang-Chi starring Simu Liu opens on September 3 while 20th Century Studios' Free Guy starring Ryan Reynolds opens on August 13. Disney executives did not specify which digital platforms would carry the films after 45 days.
Disney executives will join their counterparts at the other US majors, distributors, National Association of Theatre Owners and Motion Picture Association of America in Los Angeles next Wednesday (May 19) for 'The Big Screen Is Back' preview showcase of upcoming theatrical releases.
Disney+ results offered cause for optimism in the second quarter as global subscribers climbed to 103.6m, a significant rise on 33.5m from the year-ago period albeit less than Wall Street's consensus forecast of 110m.
CEO Bob Chapek said an anticipated return to production was expected to fuel subscriber growth. Earlier in the day, Dwayne Johnson took to social media to reveal that the family adventure tentpole Jungle Cruise will open simultaneously in cinemas and on Disney+ Premium Access on July 30.
Disney+ contributed to the overall direct-to-consumer picture as revenues for the quarter climbed 59% to $4bn. Operating loss fell from $800,000 to $300,000 due to improved results at Hulu, driven by subscription revenue growth and higher advertising revenue, partially offset by an increase in programming and production costs driven by higher subscriber-based fees for programming the live TV service.
The average monthly revenue per paid subscriber for Disney+ fell from $5.63 to $3.99 due to the launch of Disney+ Hotstar.
Overall Disney reported $15.6bn in revenues, down against analysts' forecasts of $15.9bn. The media giant's Disney Parks, Experiences and Products division delivered a $1.2bn loss to operating income, however there is optimism as parks continue to reopen, albeit in restricted capacity.
Parks and resorts have been closed or operated at "significantly reduced capacity" from late in the second quarter of fiscal year 2020, while cruise ship sailings are on pause.
Disneyland and Disneyland California Adventure reopened in restricted capacity on April 29 to California residents only. Walt Disney World in Florida has stayed open at 35% capacity since last July, and Disneyland Paris is expected to reopen soon.