JULY 7 UPDATE: Web-slinger takes $10.4m in South Korea; $3.4m in UK previews; franchise record $4m in Australia.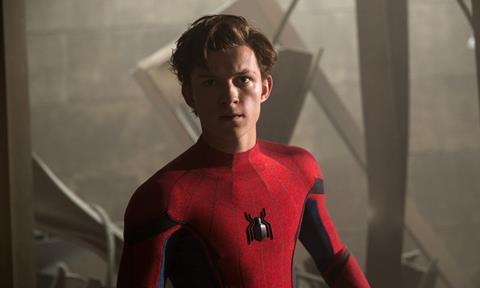 Spider-Man: Homecoming has raced to $25.3m internationally through Thursday as Sony opens the latest iteration of its crime-fighting superhero saga this weekend in 60% of the international footprint.
South Korea has generated $10.4m since its Wednesday release. South Korea's opening day of $3.7m was 157% ahead of The Amazing Spider-Man 2 and 215% ahead of Wonder Woman, setting the record for a standard Wednesday.
The UK has grossed $3.4m in previews in two days. The film debuted on $2m in the UK, which is 4% behind The Amazing Spider-Man 2 and equal to Wonder Woman.
Russia debuted on Thursday on $2.3m, 114% ahead of The Amazing Spider-Man 2 and 167% ahead of Wonder Woman.
Latin America produced $6.7m as a region on its opening day, including $2.2m in Brazil and $2.4m in Mexico. Brazil's opening day of $2m was the highest all-time for July. Mexico's $2.4m debut was 23% ahead of The Amazing Spider-Man 2 and 1% above Wonder Woman.
Australia has generated $4m after two days, the highest all-time for Sony and 86% above The Amazing Spider-Man 2, while Italy debuted on Thursday on $750,000.
Spider-Man: Homecoming marks the first stand-alone Spider-Man film in the Marvel Cinematic Universe and stars Tom Holland, Michael Keaton, Jon Favreau, Zendaya, Donald Glover, Tyne Daly, with Marisa Tomei and Robert Downey Jr.
Besides the aforementioned territories, it arrives this weekend in India through Sony Pictures Releasing International. China, France, Germany, Spain and Japan follow throughout the summer.
The Amazing Spider-Man 2 – the last incarnation of the webslinger that starred Andrew Garfield in the lead role – opened in early summer 2014 and went on to gross $506.1m internationally, while $708.9m worldwide was the lowest result of the entire franchise.
Sony has steered the ship for the last 15 years of Spider-Man films, however this iteration falls under the MCU after Sony and Marvel Studios agreed on a deal almost two years ago.
Marvel Studios' Kevin Feige is producing alongside Amy Pascal via her Pascal Pictures. Former Sony Pictures Entertainment co-chair Pascal oversaw the franchise during her tenure at the studio.
Illumination's Despicable Me 3 stands at $191.6m after debuting in 48 territories, alongside North America last weekend through Universal Pictures International. Read about China's record Friday launch here.
The Steve Carell and Kristen Wiig animation stands at $266m worldwide and arrives in China this alongside nine additional territories including France and Germany.
'Dark Universe' title The Mummy stands at $377m worldwide, while A24's horror film It Comes At Night, starring Joel Edgerton, Carmen Ejogo and Christopher Abbott will open in the UK this week.
Paramount Pictures International's Transformers: The Last Knight starring Mark Wahlberg, Laura Haddock and Anthony Hopkins stands at $354m internationally.
Michael Bay's fifth instalment of the 10-year franchise stands at $465.1m worldwide, with $111.1m coming from North America.
Also from Paramount, Dwayne Johnson and Zac Efron raunchy comedy Baywatch stands at $86.4m with no new openings.
Warner Bros Pictures International and DC's Wonder Woman has amassed $369.8m internationally. King Arthur: Legend Of The Sword has reached $103m, while Everything, Everything stands at $12.9m.
The House starring Will Ferrell, Amy Poehler and Jason Mantzoukas stands at $3.9m after debuting in the UK and Australia last week. The R-rated comedy, which flopped in North America over July Fourth weekend, will arrive in Germany this weekend.
From Fox International, Alien: Covenant has grossed $157.6m, while DreamWorks Animation's The Boss Baby has amassed $320m.
Amy Schumer and Goldie Hawn action comedy Snatched has grossed $12.8m, while Gifted stands at $5.9m.
Captain Underpants: The Epic Movie stands at $7.5m, while Diary Of A Wimpy Kid: The Long Haul has reached $13.2m and debuts in three territories including Australia.
Pixar's Cars 3 has grossed $56.5m through Walt Disney Studios Motion Pictures International and has no new debuts this weekend.
Pirates Of The Caribbean 5 stands at $553.2m, while Guardians Of The Galaxy Vol. 2 has reached $472.4m. Both titles are completely opened. Beauty And The Beast has reached $756.2m internationally.
The Shack has earned $38.8m through Lionsgate International, while Patriots Day stands at $18.3m. Power Rangers is on $55.1m, John Wick: Chapter 2 $76.8m, and The Last Face $1.1m.