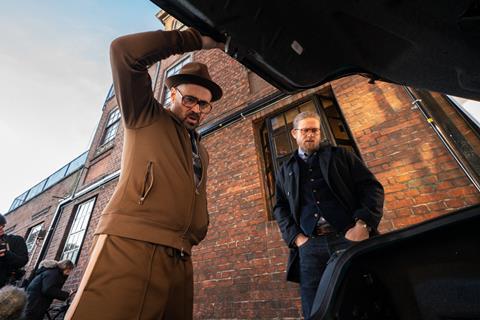 | Rank | Film (Distributor) | Three-day gross (Jan 3-5) | Total gross to date | Week |
| --- | --- | --- | --- | --- |
| 1 | Star Wars: The Rise of Skywalker (Disney) | £4.4m | £51.3m | 3 |
| 2 | Jumanji: The Next Level (Sony) | £3.1m | £28.4m | 4 |
| 3 | Little Women (Universal) | £2.6m | £9.1m | 2 |
| 4 | The Gentlemen (Entertainment Film Distributors) | £2.18m | £3m | 1 |
| 5 | André Rieu: 70 Years Of Young (Piece of Magic Entertainment) | £1.7m | £1.7m | 1 |
Disney
Disney's Star Wars: The Rise Of Skywalker continued to be a force to be reckoned with at the UK box office, holding the top slot on its third week of release. The concluding episode of the Skywalker saga generated a three-day weekend gross of £4.4m – down 53% week-on-week – to take it to £51.3m to date.
Frozen 2 also continued to perform strongly, putting on £1.6m over three days. This is a fall of 21% on the previous week and takes the animation to £50.1m after seven weeks on release. Last week, the sequel became Disney Animation's highest-grossing film of all time in the UK and Ireland.
Disney opened Taika Waititi's Nazi Germany-set satire Jojo Rabbit, which took £1.5m over the three-day weekend. It has recorded takings of £2.4m including previews.
Waititi's highest-grossing film in the UK is his 2017 Marvel title Thor: Ragnarok (£7.2m), while his previous indie efforts What We Do in The Shadows (2014) and Hunt For The Wilderpeople (2016) opened with £64,916 and £152,885 respectively.
Animated adventure Spies In Disguise dropped just 7% on its second week of release, taking £1.1m over three days for a total of £4.3m.
Sony
Sony's Jumanji: The Next Level is holding strongly after four weeks on release, falling 16% for a three-day gross of £3.1m and a total of £28.4m.
Adding 70 locations, Greta Gerwig's Little Women was down just 6% and took £2.6m over the weekend, for a total of £9.1m.
Entertainment Film Distributors
Entertainment Film Distributors opened Guy Ritchie's The Gentlemen and took £2.18m over the three-day weekend from 499 screens. It took £858,013 from two days of previews for a total of £3.06m.
It follows several big US studio projects for the director including last year's Aladdin for Disney, which opened with £7.1m, and King Arthur: Legend of the Sword, which started on £1.9m.
Ritchie's previous crime hits Lock Stock And Two Smoking Barrels made £18m worldwide in 1998 while Snatch made £53m globally in 2000.
Piece of Magic Entertainment
The latest event cinema screenings from Dutch violinist and conductor André Rieu delivered a strong performance.
Distributed by Piece of Magic Entertainment, André Rieu: 70 Years Of Young has so far recorded a total of £1.7m for screenings on January 4 and 5. But with more than 100 sites set to report takings, this is expected to top £1.8m.
Universal
Universal's musical Cats added £1m over the three-day weekend to take it to £10.16m after three weeks on release.
The festive period may be over but Last Christmas has continued to draw audiences and is now up to £17.9m to date with a three-day gross of £41,910.
Paramount
Paramount comedy Playing With Fire, starring former WWE wrestler John Cena, grossed £520,000 on the three-day weekend for a total of £2.08m.
Rapman's Blue Story added £30,000 to take it to a gross of £4.44m.
Lionsgate
Rian Johnson's whodunnit Knives Out took £470,660 and is up to £11.5m.
BFI Distribution
BFI Distribution's release of a 4K restoration of Federico Fellini's classic La Dolce Vita opened with £27,689 for a gross of £31,476 including previews.
Curzon
Curzon opened Mikhaël Hers' Amanda, first seen at Venice in 2018, which grossed more than $2m over nine weeks in its native France. On its UK release, it took £9,272 over the three-day weekend.