Hip hop biopic scores nearly double the second place film, Paper Towns.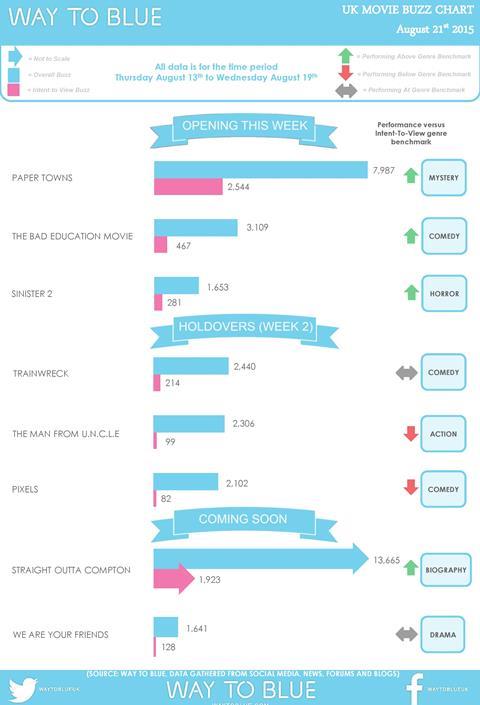 Straight Outta Compton, the story of hip hop crew NWA, has topped this week's UK movie buzz chart a week ahead of its release on Aug 28.
The film, directed by F Gary Gray, generated close to 13,700 mentions across social media, news, forums and blogs, according to analysis firm Way To Blue.
Of those, 14.1% expressed intent to view, meaning they would look to convert comments into cinema tickets.
Paper Towns ranked second ahead of its release this weekend with nearly 8,000 mentions and a strong intent to view of 31.9%.
Jake Schreier's romantic drama is based on the book by John Green, author of The Fault In Our Stars, and stars Nat Wolff and Cara Delevingne.
Also due for release this weekend, The Bad Education Movie ranked third with more than 3,100 mentions (15%).
Trailing in fourth, fifth and sixth place were Trainwreck (2,440), The Man From UNCLE (2,306) and Pixels (2,102) respectively.
Due to the volume of titles on release in the UK, Way To Blue raised its cut off point to 1,000 mentions.
This means that Vacation (712 mentions), Absolutely Anything (672 mentions) and Hitman: Agent 47 (543 mentions) did not make it into this week's buzz charts.