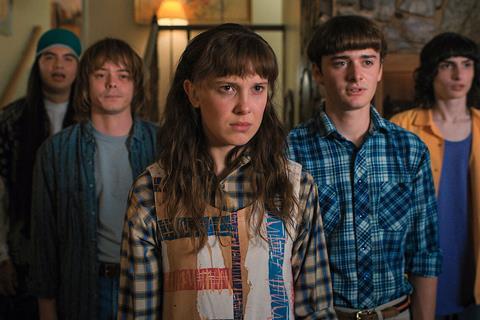 Stranger Things has notched up another record for Netflix, becoming the most-viewed streaming series ever over a single week in the US, according to figures from data firm Nielsen.
In Nielsen's latest streaming top ten, covering the week May 30 to June 5, the retro sci-fi series amassed 7.2bn minutes of viewing over 32 episodes from four seasons, the highest total since Nielsen started measuring streaming audiences in 2020. Up to now, only Netflix's Tiger King and Ozark have tallied more than 5bn minutes in a single week.
The first seven episodes of the fourth series of Stranger Things were made available on May 27, with the two-episode 'volume two' of the series launching this Friday (July 1).
A month ago, Netflix announced that 'volume one' of the series had topped its viewership charts in 83 countries to score the platform's biggest launch weekend for an English-language TV show, with 286.79m hours viewed.
Even before its last two episodes dropped, Stranger Things 4 already stood as the streamer's most popular single season of an English-language series ever, with more than 930m hours viewed in the first 28 days of availability. The second season of Bridgerton ranked a distant second with 656m hours over 28 days.
The Nielsen streaming chart for the week to June 5 also shows the first three episodes of Star Wars spin-off series Obi-Wan Kenobi amassing 958m minutes of viewing, a weekend premiere record for the Disney+ platform.