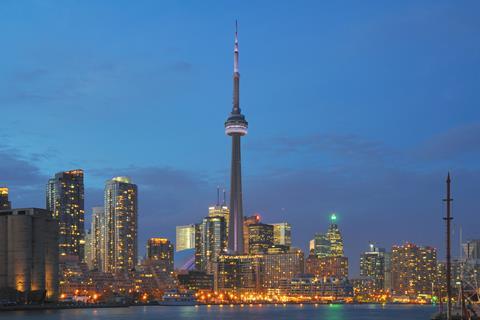 Steaming platforms can dismantle pre-existing industry biases against under-represented groups, a virtual TIFF panel of three top Hollywood producers heard on Thursday (September 10).
Speaking on a session entitled 'Killer Instincts: Powerhouse producers propelling commercial success' where inclusion dominated the talking points, Dear White People producer Stephanie Allain said working with Netflix helped disprove an oft-repeated mantra in the US film business.
"What's so fantastic is this this untrue adage that black films don't travel is just completely out of the window with streaming," said Allain. "I made a little tiny movie for Netflix called Juanita and it's a huge hit in Brazil.
"[Before] it would never have gotten to Brazil and what's great about that is we're building movie stars around the world of all kinds. Now, it's not just your white male lead or three white ladies who are fantastic actors… it's about the eyeballs – there's so many more people can see your movies when it's on a platform then would ever go to the theatre."
Allain was joined on the session by Crazy Rich Asians and Hunger Games franchise producer Nina Jacobson, and 51 Entertainment founder Lynette Howell Taylor, whose credits include A Star Is Born, Captain Fantastic, and The Accountant.
Jacobson recounted how she enjoyed her experience of making the drama All Day And A Night for Netflix, the feature directorial debut of Black Panther co-writer Joe Robert Cole that debuted on the platform earlier this year and stars Jeffrey Wright and Ashton Sanders from Moonlight.
"We just wanted to make sure we protected his voice," Jacobson said of the sub-$10m production. "We had some tough bumps in the road even early going into production that could have really deep been destabilising at a studio, but… I felt like we had an incredible amount of support."
Color Force founder Jacobson was stunned by how many people saw the film given its size, and noted that the downside of working with a streamer where there is a huge competing roster of content was that "you can also get lost in the shuffle."
While Jacobson said new buyers was "a huge win" for producers, she still professed her love for theatrical.
On the subject of Covid-19 and a pandemic year that has seen hundreds of US productions stall, Howell Taylor said the pandemic had brought upsides.
"There's an incredible efficiency… There's a lot of systems that have been grandfathered in from generation to generation, and we just all kind of accepted them. And I think a lot of those systems are breaking down for the better. I get so much more done in a day because I'm not in my car, driving from meeting to meeting a night. Now I can be on the zoom with somebody."
She warned that the pandemic was going to make it harder for working women with children, recalling how before the lockdown she would travel from coast to coast on a production with her baby while her two older children stayed at home in Los Angeles.
"You add in the Covid factor, and the inability to travel and then having to quarantine," Howell Taylor said. "We're going to see a hit on the progress that we've been trying to make, that I'm not sure we're really talking about that much and it's going to be a real factor… I think it impacts the pipeline of women. But… the truth is, it's going to impact men as well… It's going to be really tough on families.
Jacobson was in Toronto when the lockdown came into effect and they had to shut down FX Networks fantasy show and comic book adaptation Y: The Last Man. Similar fates befell two other FX Networks shows she is working on: American Crime Story in Los Angeles and Pose in New York.
All three are getting back up and the Color Force founder is preparing to fly to Toronto on September 20 to resume work on Y: The Last Man. She noted the intricacies on Covid-era productions like testing and distancing and speculated that some protocols would persist once the pandemic has gone.
The panellists speculated that the intricate logistics of Covid-era production including testing and distancing would persist once the pandemic has gone.
The producers address the Academy's new best picture eligibility rules at the start of the session. Set to come into effect in 2024, the rules place the onus on distributors and financiers to portray a wider range of under-represented groups on screen, and match that commitment to diversity in hiring staff hiring and internships.
All three panellists agreed this was a step in the right direction.
"It's an incredible start," said Howell Taylor, who became an Academy governor this year. "I feel encouraged by the fact that the studios and distributors were consulted before the announcement went out and before it went to a vote internally… This is an industry wide commitment, which is long overdue."
Allain, who was involved with TIFF's inclusion initiative ReFrame at inception, said it was important to succeed at inclusion without limiting creative expression" and noted that the Hollywood unions also needed to adapt with regard to inclusion.
On the subject of protecting under-represented talent in the context of a studio production, Jacobson said, "You don't win every fight… Inside of the system, you try to have those fights as much as you can; when you're outside of the corporate boundaries as a producer [you] can really choose what rings your bell… a great story that is compelling that you cannot put down will grab people and it will attract talent."
"It's so easy to fall back on generalisations when projects don't work… if the movie sucks and doesn't work… maybe there's a million factors," said Howell Taylor. "And people love to say, 'Well, it's because it was a female lead.'"
"And what else happens is if you do have a success story with a person of colour or a woman, it's a one off," said Allain. "And even though they add up, it's still not enough – they're still categorising it as just the fluke."
Asked during the virtual audience Q&A about whether she thought agents were becoming more open-minded amid the inclusion debate, Jacobson said, "I'm not sure that all talent agents are inherently less diverse… but especially with directors and writers right now there is almost a demand for voices who are women, people of colour.
"[It's] really very high right now in the television space… agencies are well aware of that demand… agents do go where they think there's upside, and that conversation is a much more inclusive one than it used to be."
The panel was a Share Her Journey session co-presented by ReFrame. Screen was the media partner.