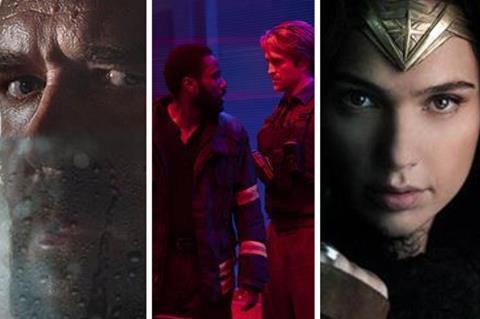 A blizzard of change blew over the North American distribution landscape on Friday (June 12), sparked by Warner Bros' decision to push back Christopher Nolan's sci-fi Tenet from July 17 to July 31.

The move is not entirely unexpected given that the pandemic has made it difficult to second-guess milestone events like cinema reopenings. Warner Bros was unwilling to gamble with Tenet going out too soon and Nolan, a huge fan of exhibition, will have insisted it open in cinemas.
A short while later Screen was the first to confirm Solstice Studios was moving Russell Crowe psychological thriller Unhinged from July 1 to July 10.
After that things moved very fast. Within minutes Warner Bros struck again, pushing Wonder Woman 1984 from August 14 to October 2, before announcing additional changes.
Godzilla Vs Kong is postponed from November 20 to May 21 2021, Tom And Jerry from December 23 to March 5 2021, and Matrix 4 from May 21 2021 to April 1 2022.

Robert Zemeckis' Roald Dahl's The Witches has been pushed from October 9 into an unspecified 2021 slot, while Untitled New Line Horror Film has been set for June 4 2021, and Untitled Warner Bros Event Film last scheduled for October 16 has been removed from the calendar.
Warner Bros and Solstice were not the only ones. STXfilms has moved Gerard Butler action feature Greenland from July 31 to August 14, while Universal and Amblin Partners have pushed the Tom Hanks sci-fi Bios directed by Miguel Sapochnik (Game Of Thrones) from October 2 to April 16, 2021. According to reports UA has moved up Bill And Ted Face The Music from August 21 to August 14.
At time of writing Disney's Mulan was still set to open on July 24, making it the first new tentpole to open summer 2020.
Warner Bros has booked a 10th anniversary re-release of Inception on July 17, when audiences will get to see new footage from Tenet as well as an exclusive preview of upcoming films on the Warner Bros slate.
Friday's development acknowledges the realities of the Covid era. Studios know it will take time for cinema patrons to become accustomed to safety and hygiene protocols and feel comfortable returning in numbers.
After three months of closure due to the pandemic, exhibitors are working out when they will open their doors. The major chains have indicated willingness to do so by July.
Regions across the US including the lucrative cinema-going markets of California and in particular Los Angeles have given the all-clear to open with protocols in place. Transmission rates of Covid-19 have been rising in Los Angeles County in the last few days.
John David Washington stars in Tenet, in which he is armed only with one word ("tenet") and must save the world while time is inverted. Robert Pattinson, Elizabeth Debicki, Dimple Kapadia, Michael Caine, and Kenneth Branagh also star. Nolan has said the film, reported to have cost around $200m, is his most ambitious to date.