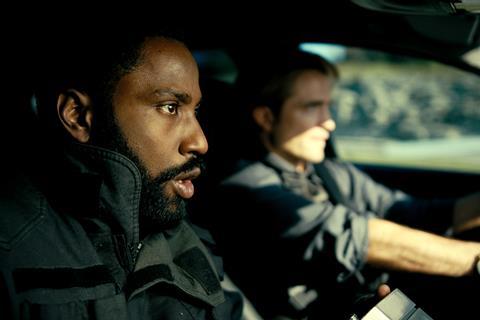 The UK and Ireland box office grew 354% from August 28-30 compared to the weekend before due to the highly-anticipated release of Tenet.
Box office takings were £6.32m, up from the previous weekend's £1.39m, according to Comscore. This was from 641 sites (including 72 in the Republic of Ireland and five drive-ins) up from 516 locations.
Takings were down 37.5% on the equivalent weekend in 2019 when a total box office of £10.1m was grossed from 857 sites with titles including Once Upon A Time In Hollywood, The Lion King and Angel Has Fallen.
But more than 20% of cinemas in the UK and Ireland remain closed post-lockdown and those that are open have social distancing measures in place, meaning screens are only able to be filled to around 50% of their full capacity.
It also marks a significant improvement on the previous weekend, when the total box office was down 85% on the equivalent weekend in 2019.
This surge is almost solely down to Warner Bros' release of Tenet, the first major studio release since cinemas in the UK and Ireland began reopening in July, following months of closures that began in March as a result of the Covid-19 outbreak.
Christopher Nolan's time-bending thriller took £5.33m from 611 locations, having opened on Wednesday, August 26. From Friday to Sunday, Tenet grossed £3.29m.
It was followed by Disney's Onward, first released prior to lockdown, which held second place with £185,028, up 29% on the previous weekend. It means the Pixar animation has now grossed £6.65m in total from 12 weekends.
After four consecutive weeks, Altitude's Russell Crowe-led thriller Unhinged finally left the number one slot. The film took £112,465 from 414 locations, meaning it has grossed £1.21m in the UK and Ireland to date.
Two Vertigo Releasing titles continued to perform well. Animation 100% Wolf added £140,050 and is up to £828,469 after five weekends, while Matteo Garrone's adaptation of Pinocchio added £94,821 on its third session and is up to £556,701.
It remains to be seen if these robust figures can be maintained. This weekend will see the long-awaited release of dark superhero thriller The New Mutants. Disney made a promising start with the feature, taking £220,000 from just two days of previews ahead of its September 4 release.