Anjelica Huston will receive an honorary award from the festival.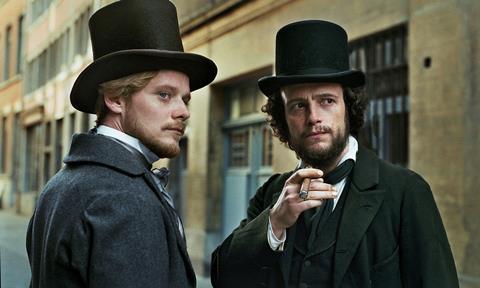 The Seattle International Film Festival (SIFF) has announced its complete lineup of films, guests, and events for its 43rd annual edition.
This year, SIFF will screen 400 films from 80 countries and will including 161 features (plus 4 secret films), 58 documentaries, 14 archival films, and 163 shorts.
The lineup includes 36 world premieres (14 features, 22 shorts), 34 North American premieres (22 features, 12 shorts), and 20 US premieres (11 features, 19 shorts).
The opening night screening will be Michael Showalter's The Big Sick from Amazon Studios, while Raoul Peck's The Young Karl Marx [pictured] will close this year's festival.
The Big Sick is based on the beginning of co-writers Kumail Nanjiani and his wife Emily V. Gordon's relationship; the pair also star. The Young Karl Marx follows the titular figure and his wife in exile in Europe, where they meet a man who provides them with the final piece needed for the foundation of Marxist theory.
Highlights from the programme include the annual Centerpiece Gala on June 3, which will screen Gillian Robespierre's 1990's-set comedy Landline starring Jenny Slate, John Turturro, Edie Falco and Abby Quinn with Slate, Quinn and Robespierre scheduled to attend.
The world premiere of Theresa Rebeck's Trouble will screen at the SIFF Cinema Egyptian as SIFF honours the film's executive producer and star, Anjelica Huston, with the Career Achievement in Acting Award.
The festival will also pay tribute to the actor Sam Elliott and will screen his film The Hero on May 27, followed with an onstage discussion.
"This year's robust line-up includes a wide variety of programmes ranging from heartfelt features from comedy favourites to thought-provoking documentaries, as well as once in a lifetime conversations with Hollywood legends," interim artistic director Beth Barrett said.
"We are thrilled to jump into our 43rd edition and introduce spectacular programming from across the world to over 150,000 film enthusiasts in Seattle over the course of 25 days."
To view the full programme, visit: www.siff.net/festival