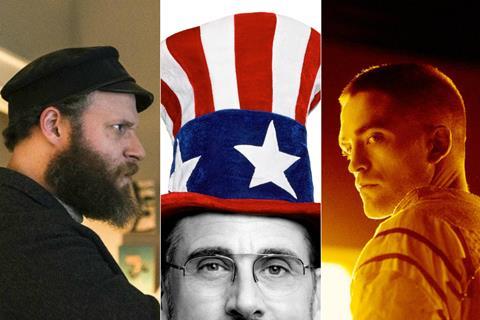 UK-Ireland, opening Friday August 7
With Tenet still on the horizon, new releases are scarce this weekend in the UK and Ireland.
However Warner Bros will be hoping to pick up useful information for the Tenet release through the rollout of Brandon Trost's An American Picklein over 100 locations.
Starring Seth Rogen and produced with his Superbadco-creator Evan Goldberg, the film sees an immigrant worker at a pickle factory become accidentally preserved for 100 years, and wake up in modern day Brooklyn.
The film is US streaming platform HBO Max's first original title, and will debut on the platform stateside this weekend.
606 Distribution is working with Modern Films to release Perfect 10, the feature debut of Screen Star of Tomorrow 2016 Eva Riley.
The film is screening in 10 physical locations, plus 15 virtual cinema sites, where a percentage of the film's download price will go to the customer's chosen cinema. A day-and-date release sees the film go on BFI Player and Curzon Home Cinema at the same time.
Perfect 10, which debuted at the 2019 BFI London Film Festival, stars newcomer Frankie Box as an aspiring gymnast whose world is turned upside down by the arrival of the half-brother she never knew she had.
Following July's Dreambuilders, Signature Entertainment is conducting its second animated release in the last three weeks with The Snow Queen: Mirrorlands.
The Russian film is the fourth instalment in the internationally-successful The Snow Queen series, and sees Snow Queen Gerda battle a powerful king who finds a way to withdraw all the magic from the world.
Germany, opening Thursday August 6
Universal's release of Jon Stewart's political satire Irresistible is one of only two titles from US majors opening in German cinemas this week, along with Paramount's horror film Body Cam.
Wild Bunch and Capelight join forces to launch Andy Tennant's romantic drama The Secret: Dare To Dream, starring Katie Holmes and Josh Lucas.
Weltkino opens Filippo Meneghetti's debut feature, the lesbian love story Two Of Us, with Barbara Sukowa and Martine Chevallier as two secret lovers, which premiered at TIFF last year.
Releases of local productions range from Leonine's children's film Max Und Die Wilde 7, the first film adaptation from the bestselling series of books by writing team Lisa-Marie Dickreiter and Winfried Oelsner; DFFB graduate Anna Sofie Hartmann's second feature Giraffe (Grandfilm); and two documentaries: co-directors Marcus H. Rosenmüller and Johannes Kaltenhauser's Dreiviertelblut – Weltraumtouristen about the Bavarian folklore-free Volksmusik band of the same name (Südkino/Lieblingsfilm) and Bernhard Koch's exploration of different paths to self-healing in Sein – gesund, bewusst, lebendig (Spuren_Pfade_Filme).
Finally, the Busch Media Group has revived the 2013 disaster movie Gamgi (Flu) - described as Korea's answer to Contagion– under the timely German title of Pandemie.
Italy, opening Thursday August 6
Torino-based distributor Movies Inspired continues releasing titles at a rate of two to three per week. This time its Claire Denis' 2018 Toronto premiere High Life, starring Robert Pattinson and Juliette Binoche, and Melanie Laurent's first American movie as a director, the 2018 noir Galveston, starring Ben Foster and Elle Fanning.
Warner Bros (which handles Sony Pictures' new releases in Italy) is bringing to theatres the 2019 Charlie's Angels remake directed by Elizabeth Banks. The film's original Italian release was halted by the lockdown.
Finally, niche distribution company Derio Di Pumpo is releasing 2016 dramedy Amo La Tempesta (I love the storm), starring Nando Paone (from Matteo Garrone's Reality). The film was not previously released.