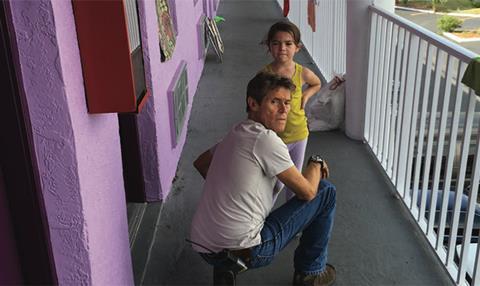 Willem Dafoe, one of the stars of Sean Baker's The Florida Project, will receive the Icon Award at the 29th annual Palm Springs International Film Festival (PSIFF).
Dafoe plays a manager and father-figure to guests at a low-budget motel adjacent to Disney World. The Florida Project marks Baker's follow-up to Tangerine.
The actor earned Golden Globe and SAG nominations last week and received supporting actor honours for the role from the New York Film Critics, Los Angeles Film Critics, and National Board of Review, among others.
Prior recipients of the Icon Award include Michael Douglas, Robert Duvall, Tom Hanks and Meryl Streep.
Dafoe joins previously announced 2018 PSIFF honourees Mary J. Blige, Timothée Chalamet, Jessica Chastain, Gal Gadot, Holly Hunter, Allison Janney, Gary Oldman, Sam Rockwell, Saoirse Ronan and The Shape Of Water.
The actor will receive the honour at the film awards gala on January 2, 2018. The festival runs from January 2–15.