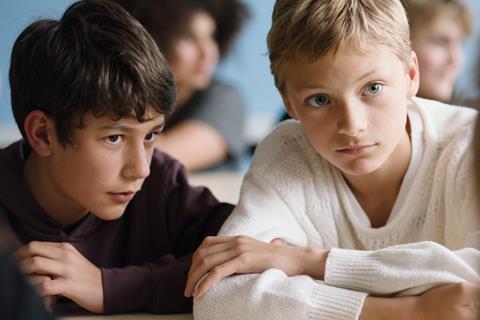 The Match Factory has closed deals in around 100 territories for Belgian director Lukas Dhont's drama Close, which won a grand prix at the Cannes Film Festival on Saturday (May 28).
In Europe, the feature has sold to Germany and Austria (Pandora), Baltics (A-One), Czech Republic and Slovakia (Artcam), Ex-Yugoslavia (MCF), Greece (Ama Films), Poland (New Horizons), Romania (Bad Unicorn), Scandinavia (Future Films) and Switzerland (Filmcoopi).
In Asia and the rest of the world, it has sold to South Korea (Challan), Taiwan (Filmware), Thailand (Sahamongkolfilm), and Australia and New Zealand (Madman).
Previously announced deals include North America (A24), UK, Eire, Latam, Turkey and India (Mubi), Italy (Lucky Red / BIM), Spain (Vertigo) and Israel (Lev Cinemas).
Leading German sales company The Match Factory said remaining territories are in negotiation.
Close stars Eden Dambrine and Gustav De Waele as two boys whose tender friendship is tragically broken. It premiered in Competition at Cannes on May 26, receiving a 12-minute standing ovation, and shared the festival's Grand Prix with Claire Denis' Stars At Noon.
Producers are Michiel Dhont and Dirk Impens for Menuet and co-producers are France's Diaphana, the Netherlands' Topkapi Films and Belgium's Versus Productions. Diaphana will release the film in France and Lumière will distribute in Benelux.
The Match Factory previously handled the Belgian filmmaker's acclaimed debut, transgender dancer drama Girl, which won the Camera d'Or following its premiere in Un Certain Regard at Cannes in 2018.
Girl also won Cannes' Queer Palm, Fipresci prize and Un Certain Regard best actor award for Victor Polster before securing a Golden Globe nomination and further festival prizes at San Sebastian and Zurich.
Dhont reunited with co-writer Angelo Tijssens on the script for Close.
The feature is due to screen next month at the Sydney Film Festival and will open Ghent Film Festival in October.