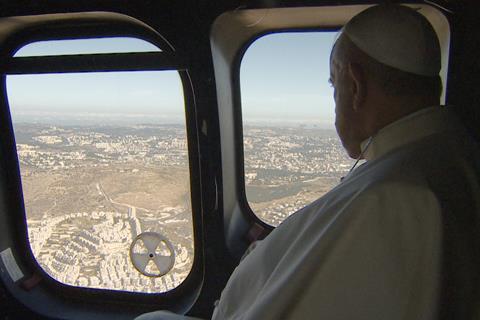 Sales powerhouse The Match Factory is representing five titles at this year's Venice Film Festival, including two Competition films plus Mark Cousins' Giornate degli Autori opener The March On Rome.
Both of the German-based sales firm's Competition titles are Italian films. Gianni Amelio's Lord Of The Ants recounts the true story of Italian playwright and poet Aldo Braibanti, and the relationship he had with his pupil Ettore that lead to an infamous trial in the 1960s.
Kavac Film, Ibc Movie, Tenderstories and Rai Cinema produced the title.
Also in Competition, The Match Factory has Chiara from Venice regular Susanna Nicchiarelli. Produced by Vivo Film with Rai Cinema and Tarantula, it tells the story of St. Clare of Assisi, a 13th-century saint who stood up to the authority of the church. Italian newcomer Margherita Mazzucco plays the lead role.
01 Distribution will release both titles in Italy, with Lord Of The Ants coming out on September 8.
The Match Factory is also representing out of competition title In Viaggio, the latest documentary from Gianfranco Rosi. The film is a portrait of Pope Francis, the current pontiff, who Rosi has accompanied over recent months; according to The Match Factory, it combines a depiction of the statesman with Rosi's themes of "poverty, injustice, migration and war". 21Uno Film and Stemal Entertainment produced the film with Rai Cinema; 01 Distribution is releasing in Italy on October 4.
The Match Factory is working with UK director Mark Cousins for the first time, selling his latest documentary The March On Rome, which will open the Venice sidebar Giornate degli Autori on August 31. Using archive footage, the film narrates the ascent of fascism in Italy, and its fallout across 1930s Europe. It is produced by PalomarDOC, the documentary arm of Italian production company Palomar, which co-produces with Luce Cinecitta. I Wonder Pictures will distribute the title in Italy on October 20.
The fifth Match Factory title is Kei Ishikawa's Horizons title A Man, which marks the director's return to the section after his debut Traces Of Sin played there in 2016. His new film is based on Keiichiro Hirano's novel of the same name: a family drama about three people who form an investigative trio to find the true identity of the recently-deceased husband of one of them. Japan's Shochiku produced the film.