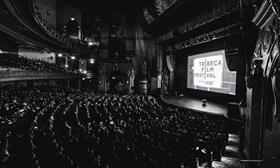 Tribeca Film Institute announced on Wednesday (March 28) that Jeremy Palmer's The Valley Of Dry Bones will receive the 2018 Sloan Student Grand Jury Prize for screenwriting.
The film tells the story of Canadian Nobel Prize winner Dr Frederick Banting and his role in discovering insulin and its potential to treat diabetes.
Palmer will receive $30,000 in prize money, in addition to an industry mentor and a science mentor to support the film's development.
Greg Wayne's film Little Leper earned an honourable mention and follows a young woman who leaves her leper colony in search of treatment.
The Alfred P. Sloan Foundation's national prize-granting programme aims to promote the writing of scripted films about science and technology.
"We are delighted to award this year's Sloan Student Grand Jury Prize to Jeremy Palmer's The Valley Of Dry Bones, a deeply moving story of the personal struggles and the scientific hurdles overcome by Sir Frederick Banting, a war hero and co-discoverer of insulin who in 1923 became the youngest winner of the Nobel Prize for Physiology or Medicine at age 32," Doron Weber, vice-president and programme director at the Sloan Foundation, said.
"The calibre of student submissions from year to year is truly remarkable," Amy Hobby, executive director of TFI, added. "It was a difficult decision for the jury, and we couldn't be more proud of Jeremy Palmer and Greg Wayne. We all owe a debt of gratitude to the Alfred P. Sloan Foundation for inspiring the next generation of filmmakers to celebrate science and technology with prominence and precision."
2016 Sloan Grand Jury Prize winner To Dust by Shawn Snyder will receive its world premiere at the Tribeca Film Festival next month. Josh Crook, Scott Floyd Lochmus, Emily Mortimer, Alessandro Nivola, and Ron Perlman served as producers.