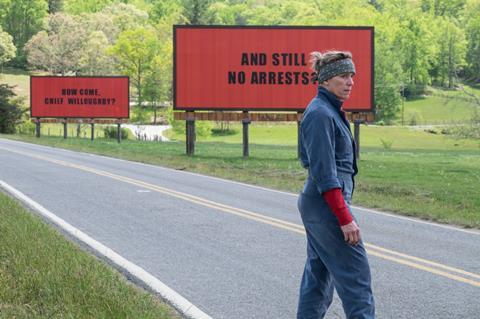 Three Billboards Outside Ebbing, Missouri won best film at the 38th London Critics' Circle Film Awards last night (28 Jan), held at The May Fair Hotel.
The film also won best actress for Frances McDormand, and best screenwriter for Martin McDonagh. With three prizes it was the biggest winner on the night.
Timothée Chalamet picked up the best actor award for Call Me By Your Name, whilst Sean Baker won best director for The Florida Project. Lesley Manville (Phantom Thread) and Hugh Grant (Paddington 2) won the supporting actor prizes.
Collecting his award, Grant said: "First Trump and Brexit, and now me winning awards. It's the end of days."
The Attenborough Award for British/Irish film of the year went to Dunkirk, with the Philip French Award for Breakthrough British/Irish filmmaker going to God's Own Country director Francis Lee.
Kate Winslet picked up The Dilys Powell Award for Excellence in Film.
Full list of winners
FILM OF THE YEAR
Three Billboards Outside Ebbing, Missouri
FOREIGN-LANGUAGE FILM OF THE YEAR
Elle
DOCUMENTARY OF THE YEAR
I Am Not Your Negro
BRITISH/IRISH FILM OF THE YEAR: The Attenborough Award
Dunkirk
DIRECTOR OF THE YEAR
Sean Baker - The Florida Project
SCREENWRITER OF THE YEAR
Martin McDonagh - Three Billboards Outside Ebbing, Missouri
ACTRESS OF THE YEAR: Sponsored by Heaven Skincare
Frances McDormand - Three Billboards Outside Ebbing, Missouri
ACTOR OF THE YEAR
Timothée Chalamet - Call Me By Your Name
SUPPORTING ACTRESS OF THE YEAR
Lesley Manville - Phantom Thread
SUPPORTING ACTOR OF THE YEAR: Sponsored by Cameo
Hugh Grant - Paddington 2
BRITISH/IRISH ACTRESS OF THE YEAR
Sally Hawkins - The Shape of Water/Maudie/Paddington 2
BRITISH/IRISH ACTOR OF THE YEAR: Sponsored by Millbank & CooperSearle
Daniel Kaluuya - Get Out
YOUNG BRITISH/IRISH PERFORMER OF THE YEAR: Sponsored by The May Fair Hotel
Harris Dickinson - Beach Rats
BREAKTHROUGH BRITISH/IRISH FILMMAKER: The Philip French Award
Francis Lee - God's Own Country
BRITISH/IRISH SHORT FILM OF THE YEAR
We Love Moses - Dionne Edwards
TECHNICAL ACHIEVEMENT AWARD
Blade Runner 2049 - Dennis Gassner, production design
EXCELLENCE IN FILM: The Dilys Powell Award
Kate Winslet