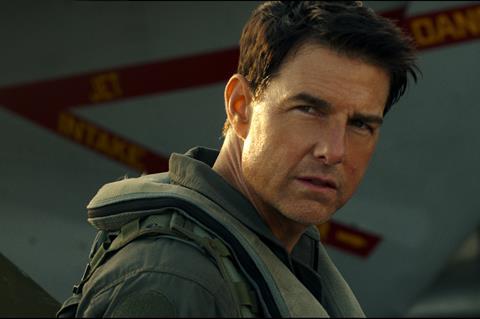 After multiple Covid delays and last week's European premiere in Cannes preceded by a show-stopping flyover above the Palais des festival, Top Gun: Maverick is heading for an estimated $151m four-day North American Memorial Day opening weekend and has set a new record for Tom Cruise.
Paramount opened the tentpole in 4,732 theatres and the session included an estimated $124m over the Friday to Sunday portion of the US Memorial Day holiday. Remarkably this becomes the first film of Cruise's career to open on more than $100m and easily overtook his previous best of $64m established by War Of The Worlds in 2005.
It is also producer Jerry Bruckheimer's second biggest debut and may yet overhaul 2007's Pirates Of The Caribbean: At World's End $153m to score the biggest four-day Memorial Day opening weekend once figures are confirmed on Tuesday.
The Paramount-Skydance action sequel to Tony Scott's 1986 pop culture classic grossed $19.3m in Thursday previews and followed that up with $51.8m on Friday. Maverick, in which Cruise reprises his role as the brilliant Navy test pilot who must now train a new class of hotshots to execute a dangerous mission in enemy territory, scored an estimated $124m internationally for a $248m global take.
Maverick over-indexed in the western United States, Rockies, south central, and southeastern US, played as expected in the Midwest and under-indexed in the northeast. Top markets that over-indexed included Phoenix, Salt Lake City, Seattle, San Diego, Tampa, Portland, Nashville and Jacksonville while the top markets that under-indexed included New York, Chicago, Philadelphia, Detroit and Baltimore.
Top grossing theatres hailed from a varied geographical spread including Los Angeles, Nashville, New York, San Antonio, Knoxville, Denver, Dallas, Washington DC, Seattle, Phoenix, Fresno and Orlando. Canada produced 7.1% market share from roughly 8% of total locations.
Premium format screens accounted for 22% of overall box office while Imax screens delivered 15%. By demographic, Maverick drew a 58% male-42% female audience. Roughly 45% of the audience was under 35, with the 18-24 crowd accounting for 21%, the largest segment.
The film's release campaign kicked off in July 2019 at San Diego Comic-Con when Tom Cruise made a surprise appearance in Hall H to debut the first trailer. Paramount showed the film to attendees at CinemaCon in Las Vegas in April ahead of the early May world premiere in San Diego.
There was a Mexico premiere accompanied by a live orchestra and guitar solo on the red carpet and Tik-tok livestream; Royal Film Performance in London attended by the Duke and Duchess of Cambridge featuring a Leicester Square takeover complete with a fighter jet on the carpet; and an Imax screening in Japan at the Yokohama Osanbashi Pier featuring a fireworks display.
Joseph Kosinski directed Top Gun: Maverick and the cast includes Miles Teller, Glen Powell, Jennifer Connelly, Jon Hamm, Lewis Pullman, Val Kilmer and Ed Harris.