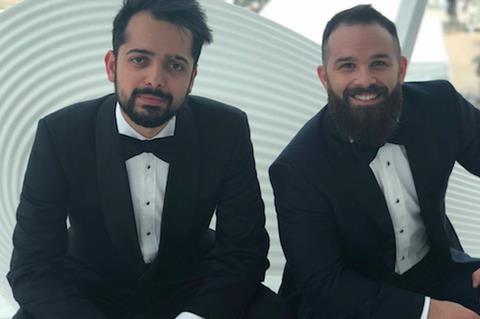 Topic Studios has struck a first-look film and television deal with filmmaking team Joe Penna and Ryan Morrison, expanding on a recent collaboration on a scripted anthology series to be announced soon.
The deal will encompass film and television projects. Penna and Morrison's debut feature Arctic premiered in Cannes last summer and Bleecker Street has set a February 1 US release date for the survival thriller staring Mads Mikkelsen.
The duo is in pre-production on second feature Stowaway, a sci-fi thriller starring Anna Kendrick and Toni Collette.
"We have loved working with Joe and Ryan," said Lisa Leingang and Ryan Heller for Topic Studios. "They are a rare combination of world-builders, DIY filmmakers and first class storytellers. There's so much we want to do together."
"We're beyond excited to be working so closely with Topic," added Penna and Morrison. "They truly support their creative partners and tell the type of stories people need to hear. Topic is a studio with something to say and we're very much looking forward joining the conversation."
The Topic Studios feature slate includes Debra Granik's Leave No Trace, Oscar-shortlisted political documentary Dark Money from Kimberly Reed, and Steven Soderbergh's Panama Papers drama The Laundromat, which Topic developed with Grey Matter Productions and is set up at Netflix.
Upcoming projects include comedic drama The Climb from Michael Covino and Kyle Marvin; war correspondent drama On The Other Side starring Carey Mulligan; and Rodrigo Prieto's directorial debut Bastard, with executive producers Martin Scorsese and Emma Tillinger Koskoff.
Television projects in development from Topic include the dramatic series Atomic Bazaar about the underground world of nuclear trafficking with Pulse Films and written by Greg Burke; thriller Hunger; and The Apothecary, based on the bestselling YA trilogy by Maile Meloy.