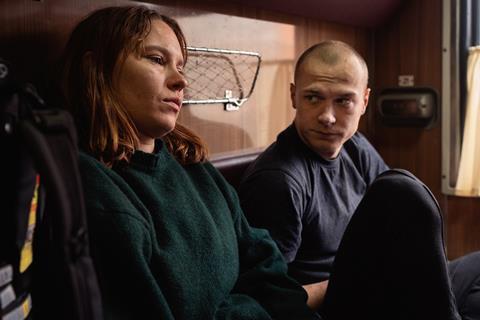 Paris-based Totem Films has unveiled a slew of sales on Finnish writer-director Juho Kuosmanen's Compartment No.6 following its Grand Prix win at the Cannes Film Festival last weekend.
In Europe, it has sold to Austria (Polyfilm), Benelux (September Film Distribution), Denmark (Filmbazar), Greece (One From the Heart), Italy (Bim Distribuzione), Norway (Mer Film), Portugal (Legendmain Filmes), Spain (La Aventura), Sweden (Folkets Bio) and UK (Curzon).
Deals to the rest of the world so far comprise Australia/New Zealand (Sharmill Films), China (iQiyi), Russia (Sony Pictures Entertainment) and Turkey (Bir Film).
Sales to a number of other territories are pending.
As announced during Cannes, Sony Pictures Classics (SPC) has snapped up rights for North America, Latin America, Eastern Europe, Southeast Asia and the Middle East,
In a deal unveiled prior to the festival, Haut et Court has taken French rights.
Inspired by Finnish writer Rosa Liksom's 2011 novel of the same name, Compartment No.6 was written by Andris Feldmanis, Livia Ulman and Kuosmanen. Jussi Rantamäki and Emilia Haukka produced for Aamu Film Company.
Seidi Haarla and Yuriy Borisov star as a young Finnish woman and a Russian mine worker who become unlikely travelling companions on a train journey from Moscow to the Arctic port of Murmansk.
The film shared the Grand Prix with Asghar Farhadi's A Hero and also scooped the Ecumenical Prize.
It is Kuosmanen's second feature after black-and-white debut The Happiest Day In The Life Of Olli Maki, which won Cannes's Un Certain Regard prize in 2016.