Having risen to the challenges of the pandemic, Paris-based sales company Totem Films is enjoying a high-profile Cannes.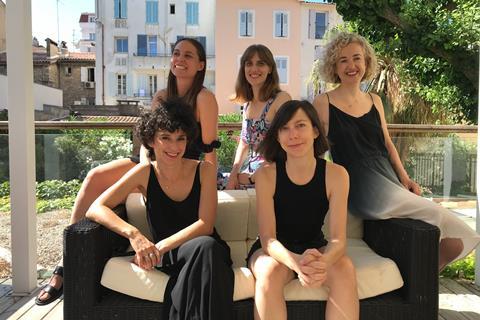 When Laure Parleani, Agathe Valentin and Bérénice Vincent launched French company Totem Films in late 2018, their first two sales acquisitions were Finnish director Juho Kuosmanen's Compartment No. 6 and Chinese-Austrian filmmaker CB Yi's Moneyboys. Two-and-a-half years later, Compartment No. 6 world premieres in Competition today (July 10) while Money­boys makes its debut in Un Certain Regard on Monday (July 12). "They're our first acquisitions from the very beginning of Totem," says Parleani. "To have them now premiere in Cannes means a lot to us."
Other titles on the slate include Samuel Theis's Critics' Week selection Softie and polyamorous love story Explosions In The Heart, lead produced by Norway's Thomas Robsahm and Renée Mlodyszewski at Oslo Pictures, who are in Cannes with compatriot director Joachim Trier's Palme d'Or contender The Worst Person In The World.
Operating out of a vast terraced apartment tucked away above the fashion stores of Rue d'Antibes, the trio reports a packed meetings schedule, even if there are reputedly few buyers on the ground. "Because of the nature of our company and our independence, we're across a number of things, so we'll be talking to buyers, looking at potential future sales acquisitions and also meeting producers," says Vincent. "There are lots of European producers in town and while there might be fewer buyers, all the key US and European ones are here."
Slick campaigns
Totem had barely been up and running for a year when the pandemic struck in early 2020. Prior to that, the company enjoyed a buzzy first Cannes in 2019 with Georgian-Swedish director Levan Akin's drama And Then We Danced and Costa Rican drama Land Of Ashes.
When the markets moved online in 2020, the trio rose to the challenge with one of the slickest sales campaigns of the virtual Cannes market last June for Cannes 2020 label selection Gagarine. French directors Fanny Liatard and Jérémy Trouilh's debut feature charts the life of a Black teenager, obsessed with space travel, as the crumbling 1960s housing estate he calls home faces demolition.
The film secured a raft of deals, including to Cohen Media Group and Curzon for the US and UK respectively, and went on to do the rounds of physical and online festivals. Most recently, the company racked up more than 30 sales at the online European Film Market in March for Berlinale Competition title Ballad Of A White Cow.
"We've managed to strike hard in terms of creating Totem's identity and ensuring the visibility for our films," says Vincent. "Given the current fragile situation, the size of the company and the sort of independent work we champion, it could have gone the other way. There was a risk we could have ended up with zero visibility. We know this sort of success can come and go, so we never take anything for granted."
Totem branched into documentaries last year with the creation of Totem Docs, which kicked off with four titles including Alice Diop's We, which won best film in the Berlinale's Encounters sidebar as well as the festival's best documentary prize. The company also has production and co-production ambitions. It is developing an adaptation of hard-hitting work The Female Gaze by Franco-American writer and critic Iris Brey, who is on this year's documentary jury at Cannes.
The company brought in emerging producer Elsa Payen to oversee these production activities as its first employee last year and has since hired Nuria Palenzuela Camon to handle festivals and also assist in production and sales. All Totem's sales acquisitions and production projects have remained true to its founding desire to support work exploring issues of gender and identity.
"We don't take on a lot of films," says Valentin. "One of the motives behind setting up this company was to defend films with a different view on the world. Every acquisition is the result of long discussions between all three of us."
The slate is also the fruit of a growing network of producer and filmmaker relationships the trio began developing in previous roles at Celluloid Dreams, Les Films du Losange and Pyramide Films International, prior to launching Totem. Vincent and Parleani, for example, worked on Kuosmanen's debut feature and 2016 Un Certain Regard winner The Happiest Day In The Life Of Olli Mäki while at Losange, connecting with his producer Jussi Rantamaki.
"We are growing and so are our partners, who are becoming more numerous," says Parleani. "Here in Cannes, we want to exchange, share visions and welcome this growing network. It's not exactly family but rather a sort of tribe.