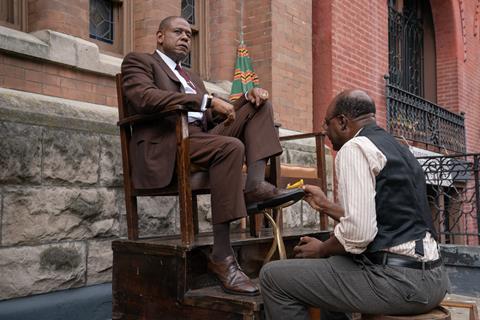 The Tribeca TV Festival has announced a line-up that includes the world premieres of Forest Whitaker crime drama series Godfather Of Harlem for Epix, producer Josh Schwartz's limited Hulu series Looking For Alaska, and producer Greg Berlanti's Riverdale spin-off Katy Keene for the CW.
Also set for the festival's third edition, which runs from September 12-15 in New York City's Regal Battery Park, is a 25th anniversary celebration of Friends and a closing night screening of the musical finale of Amazon's streaming series Transparent.
Whitaker and executive producers Chris Brancato and Paul Eckstein will attend a Q&A after the screening of Godfather Of Harlem (pictured), while Friends executive producers Marta Kaufman, David Crane and Kevin Bright will take part in a post-screening conversation about their still popular sitcom.
Other shows set to screen at the festival include the pilot of Freeform's Party Of Five (as part of National Hispanic Heritage Month); Starz crime docu-series Leavenworth, from executive producer Steven Soderbergh; First Wives Club, from BET+; CBS drama Evil; AMC's docu-series Hip Hop: The Songs That Shook America; HBO's Room 104; ABC's Bless This Mess; and Amazon's Goliath.
Tribeca Enterprises executive vice-president Paula Weinstein said: "We're returning this year with a line-up that highlights the ever-changing ways audiences consume television. Featuring selections from classic cable networks, to premium cable, to streaming entertainment, the festival will always highlight the best storytelling in the medium."
Tribeca festival director Cara Cusumano added: "This year's Tribeca TV Festival programme, like TV itself, has something for everyone. We are bringing channel surfing to the big screen, as our audiences can experience - in just 4 days - the full spectrum of episodic storytelling; and we hope, discover their new favourite show along the way."