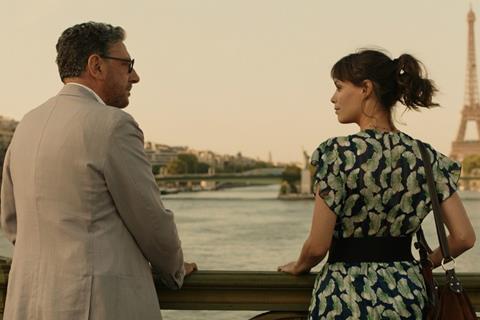 Rome-based sales company True Colours has secured deals on a raft of titles out of the EFM, led by Sergio Castellitto's romantic drama A Bookshop In Paris.
The film, starring Castellitto and Berenice Bejo, has pre-sold to Taiwan (Andrews Film), Poland (Aurora), Benelux (Paradiso), former Yugoslavia (Stars Media), Sweden (Studio S Entertainment), Finland (Future Film), Denmark (Another World) and Israel (Nachshon).
The romantic drama, now in post-production, marks the last screenplay written by the late Ettore Scola and has subsequently been adapted by Castellitto and novelist Margaret Mazzantini. It will be released in Italy by 01 Distribution and in France by Rezo Films.
True Colours has also closed sales on Paolo Genovese's romantic comedy drama Superheroes, starring Jasmine Trinca (Euphoria) and Alessandro Borghi (Romulus & Remus: The First King)
The film, also in post-production, has sold to Norway (Fidalgo), Sweden (Studio), Finland (Future Film), Denmark (Another World) and Benelux (Paradiso). It was previously picked up for Poland (Aurora Film), Israel (Nachshon), Russia, CIS and Baltics (Provzglyad), Hungary (Cinenuovo) and former Yugoslavia (Star Media).
An Italian release is scheduled for the second half of 2020 through Medusa, which also produces with Leone Film Group subsidiary Lotus Production.
In addition, True Colours screened Ferzan Ozpetek's The Goddess Of Fortune at the market and secured deals in Spain (Karma Film), Australia (Palace), Benelux (Arti Film) and Poland (Aurora).
The film, about a gay couple who are thrown into crisis when a friend asks them to take care of her children, took more than $9m (€8.2m) at the Italian box office when it was released by Warner Bros in December.
Prior to the EFM, festive adventure Once Upon A Time… In Bethlehem was sold to Germany (Smart Media), Australia (Palace), Russia and CIS (Pilotkino), and Hungary (RTL). Negotiations are ongoing for Spain.
In addition, Guido Chiesa comedy Say It Loud has been picked up for Australia (Palace) while talks are underway for Eastern European territories.
True Colours, which was forged as a partnership between renowned companies Lucky Red Distribution and Indigo Film Production, attended the European Film Market in Berlin last month with a reshuffled top team.
Following the departure of managing director Catia Rossi in January, Gaetano Maiorino has been appointed managing director and head of acquisitions while Giulia Casavecchia has been promoted to head of sales and Francesca Tiberi has been named sales and acquisitions manager.