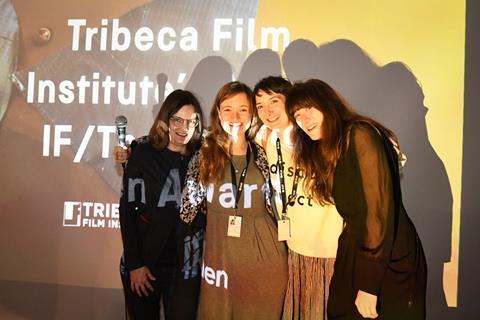 Projects from the UK, Belarus and Ukraine are among the winners at this year's East Doc Platform (EDP), the largest co-production, funding and distribution platform specialised in Central and East European documentaries.
London-based filmmaker Zoe Aiano's short Blackandwhite, about a nurse during the Second World War in Czechoslovakia, was the winner of a new short-form documentary pitching competition developed with the Tribeca Film Institute's IF/Then initiative and the One World International Human Rights Film Festival.
Aiano's 15-minute short received up to $20,000 in production support as well as ongoing mentorship and participation in a year-long distribution initiative by the Tribeca Film Institute (TBI).
TBI's Executive Director Amy Hobby was joined by an international jury including IDFA senior programmer Martijn de Pas and UK filmmaker Kim Longinotto.
East Doc Platform awards
The €7,500 East Doc Platform Award went to Estonian filmmaker Marianna Kaat's The Last Relic, about a 21-year-old student from Yekaterinburg State University trying to find common ground with political activists and opposition groups.
Polish filmmaker Hanna Polak's latest documentary project Angels of Sinjar, Yazidis - 21st Century Genocide picked up both the €2,000 HBO Development Award and the €5,800 Czech TV Co-production Award.
Current Time TV Director's Awards went to Russian filmmaker Ksenia Gapchenko, for Holy Culture! about the revival of the Houses of Culture from the former USSR, and Liuba Ziamtsova's The Place Of Love, the first project from Belarus to be developed within the Ex Oriente Film workshop.
Other awards included the Sheff/Doc Fest Best Pitch Prize to the best Czech project for nutprodukce's In The Name Of Allah by Francesco Montagner, the IDFA Forum Award for the Russian-Estonian co-production Journey To The End Of The Night, the DocsBarcelona Award for Slovak filmmaker Peter Kerekes' Wishing On The Star, and two prizes from DOK Leipzig for the Polish directorial duo Malgorzata Goliszewska and Kasia Mateja (Lessons of Love) and Ukraine's Oleksiy Radynski (Hacking Friendship).
In addition to the 24 projects pitched in the public East Doc Forum, EDP's organiser, the Institute of Documentary Film (IDF), also which gave another 14 selected projects an opportunity to have one-to-one meetings with international funds, TV networks, sales agents and festival programmers in the parallel East Doc Market.
Projects presented here included Alexander Mihalkovich's Babushka. Lost In Translation, produced by Minsk-based Volia Films with Ukraine's Directory Films, and Brussels-based Karelian director Aleksandr M. Vinogradov's Queer Tango Goes To Russia.