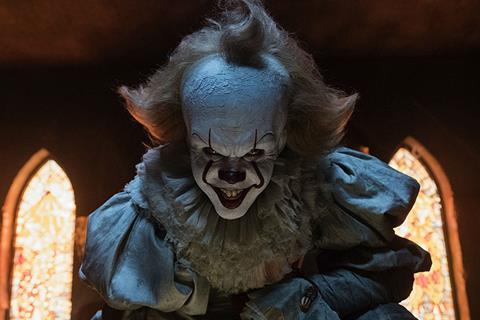 UK TOP FIVE
| Ranking | Film/Distributor | Weekend gross | Running total |
| --- | --- | --- | --- |
| 1 | It (WB) | $13m (£9.9m) | $13m (£9.9m) |
| 2 | American Made (Universal) | $886,000 (£671,850) | $5.7m (£4.33m) |
| 3 | Dunkirk (WB) | $826,000 (£626,223) | $72.6m (£55.05m) |
| 4 | The Emoji Movie (Sony) | $718,000 (£544,000) | $17.4m (£13.2m) |
| 5 | The Hitman's Bodyguard (Lionsgate) | $639,000 (£484,156) | $8.7m (£6.58m) |
(Note - Dollar conversions are based on today's rates)
WARNER BROS
It exceeded all expectations with the biggest horror opening of all time at the UK box office.
Warner Bros' well-received horror floated to an excellent non-final $13m (£9.9m) from its 605 sites, marking the fifth biggest Fri-Sun opening of 2017 and seventh-biggest overall opening of the year to date.
Alongside its achievement as the biggest horror opening of all time, It also posted the biggest September opening of all time, topping Bridget Jones's Baby's $10.7m (£8.11m) from 641 sites last year.
The Stephen King adaptation will shortly become the highest grossing horror of the year and given its strong reviews and word-of-mouth, IT should enjoy a lengthy run and potentially hit £30m if it avoids the usual fast-burn nature of genre films.
Also for Warner Bros, Dunkirk dropped a slim 34% on its way to a $826,000 (£626,223) eighth weekend for $72.6m (£55.05m) to date, making it the 19th highest-grossing film of all time at the UK box office.
Hit by the success of It, Annabelle: Creation fell a steep 71% with a $216,000 (£163,605) fifth weekend for $10.7m (£8.08m) to date.
UNIVERSAL
Dropping to second, Universal's American Made fell 31% with an $886,000 (£671,850) third weekend for $5.7m (£4.33m) to date.
Also for Universal, Despicable Me 3 dropped a slim 27% on its way to a $500,000 (£378,927) 11th weekend for $60.9m (£46.2m) so far, while Girls Trip has reached $11.4m (£8.66m) after seven weeks in play.
SONY
Falling only 25% in its sixth weekend, Sony's The Emoji Movie added $718,000 (£544,000) for $17.4m (£13.2m) to date. It should do well on weekends over the coming weeks with a lack of animated competition.
Also for Sony, Spider-Man: Homecoming swung to an extra $149,000 (£113,000) for $40m (£30.3m) to date, while The Dark Tower and Rough Night have reached $3.56m (£2.7m) and $1.05m (£795,000), respectively.
Bollywood comedy Poster Boys posted a UK bow of $33,000 (£25,000) from its 36 sites.
LIONSGATE
Rounding off this week's top five, Lionsgate's The Hitman's Bodyguard shot to a further $639,000 (£484,156), dropping only 33%, for $8.7m (£6.58m) after four weeks in play.
Also for Lionsgate, The Limehouse Golem fell 36% on its way to a $312,000 (£236,635) second weekend for $1.19m (£903,011).
STX INTERNATIONAL
Wind River provided a decent start to STX Entertainment's UK division, STX International, with a non-final $573,000 (£434,369), including previews, from its 163 sites.
That marks a site average of $3,517 (£2,665) for Taylor Sheridan's directorial debut, which could also enjoy sturdy midweek grosses due to its older-skewing audience.
STX's upcoming UK releases include Home Again on September 29 and London Film Festival opener Breathe on October 27.
STUDIOCANAL
Falling 42% in its third weekend, Studiocanal's Logan Lucky uncovered a non-final $494,000 (£373,417) for $3.8m (£2.9m) to date.
EONE
Falling 55% in its third weekend, eOne's Detroit took $300,000 (£227,141) for $3m (£2.28m) to date, and will likely end its run as director Kathryn Bigelow's third-best UK result.
FOX
In its seventh week, Fox's Captain Underpants dropped 15% with a non-final $214,000 (£162,469) for $10m (£7.61m) to date.
Also for Fox, War For The Planet Of The Apes has amassed $27.3m (£20.68m), while Patti Cake$ fell a hefty 81% with a $21,000 (£16,180) second weekend for $278,000 (£210,898).
PICTUREHOUSE ENTERTAINMENT
Expanding to 100 sites, Picturehouse Entertainment's God's Own Country fell only 2% (excluding previews) with a non-final $176,000 (£133,636).
The critically acclaimed romance is now up to $536,000 (£405,930) after two weeks in play.
VERTIGO RELEASING
From its two sites through Vertigo Releasing, Goon: Last Of The Enforcers grossed only $2,400 (£1,834), including one preview screening. It was available on-demand from Friday (September 8) as well.
UPCOMING RELEASES
This week sees saturation releases for Paramount's mother!, Lionsgate's American Assassin (opens September 14), Universal's Victoria And Abdul and eOne's The Jungle Bunch.
Arrow Films' The Villainess and Park Circus' 4K restoration of Close Encounters Of The Third Kind – Director's Cut are among the films receiving a limited release.