Fox's Alien: Covenant leads Fri-Sun weekend; Disney's Guardians Of The Galaxy Vol 2 tops market on Saturday and Sunday.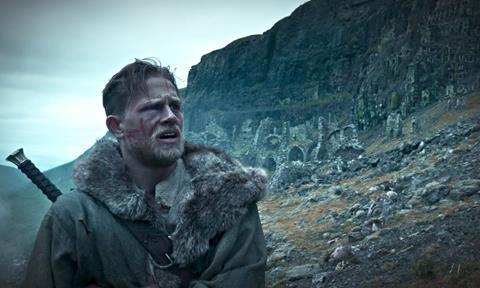 UK TOP FIVE
| Ranking | Film/Distributor | Weekend gross | Running total |
| --- | --- | --- | --- |
| 1 | King Arthur: Legend Of The Sword (WB) | $3.2m (£2.5m) | $3.2m (£2.5m) |
| 2 | Alien: Covenant (Fox) | $2.76m (£2.12m) | $12.5m (£9.6m) |
| 3 | Guardians Of The Galaxy Vol 2 (Disney) | $2.53m (£1.95m) | $47.1m (£36.3m) |
| 4 | Snatched (Fox) | $1.09m (£838,772) | $1.09m (£838,772) |
| 5 | The Boss Baby (Fox) | $538,000 (£414,806) | $34.8m (£26.8m) |
(Note - Dollar conversions are based on today's rates)
WARNER BROS
Thanks to its previews, King Arthur: Legend Of The Sword managed to debut top of the UK box office.
Warner Bros' reboot sliced to a $3.2m (£2.5m) bow from its 565 sites, including $750,000 (£577,955) in previews. Its Fri-Sun tally of $2.49m (£1.92m) would have seen it battle with Guardians Of The Galaxy Vol 2 for second.
The debut marks director Guy Ritchie's fourth biggest overall UK opening, ahead of his previous film, The Man From UNCLE's $1.88m (£1.45m) bow from 503 sites in 2015.
King Arthur: Legend Of The Sword also opened ahead of Antoine Fuqua's take on the legend as his King Arthur landed in 2004 with $2.48m (£1.91m) from its 400 sites, going on to take $9.2m (£7.07m) in the UK.
FOX
Leading the Fri-Sun weekend, Alien: Covenant fell 56% (excluding previews) with a non-final $2.76m (£2.12m) second weekend as it dropped to second.
Fox's sci-fi horror has now scared up $12.5m (£9.6m) and faces further blockbuster competition with the arrival of Pirates 5 this Friday, but will hope to act as counter-programming to the family-friendly market currently.
It won't catch Prometheus' final UK haul of $32.2m (£24.8m) though.
Also for Fox, Snatched charted fourth with a $1.09m (£838,772) bow from its 465 sites, marking a $2,341 (£1,804) site average.
That missed out on being director Jonathan Levine's best-ever UK debut, behind Warm Bodies' $1.16m (£895,509) opening from 315 sites, and is also behind Trainwreck's $1.21m (£931,981) bow from 464 sites.
Diary Of A Wimpy Kid: The Long Haul banked $1m (£774,587) in weekend previews ahead of its release this Friday (May 26), while The Boss Baby took an extra $538,000 (£414,806) for $34.8m (£26.8m) to date.
Secret Cinema's production of Moulin Rouge! has now amassed $5.1m (£3.91m).
DISNEY
In its fourth weekend, Guardians Of The Galaxy Vol 2 returned to the top of the market on Saturday and Sunday.
Disney's latest Marvel offering fell 41% on its way to $2.53m (£1.95m) for an excellent $47.1m (£36.3m) to date. It will soon overtake Captain America: Civil War and Iron Man 3 to become the third biggest Marvel film in the UK to date.
Also for Disney, Beauty And The Beast added $208,000 (£160,000) for a magical $93.3m (£71.9m) after ten weeks in play.
EONE
Falling 47% in its third weekend, eOne's A Dog's Purpose grossed a further $341,000 (£263,063) for $3.2m (£2.46m) so far.
Also for eOne, Miss Sloane posted a $107,000 (£82,281) second weekend for $534,000 (£411,466), while Sleepless has taken $1.12m (£860,265) after three weeks in play.
UNIVERSAL
In its sixth week, Universal's Fast & Furious 8 drove to an additional $300,000 (£230,668) for $38.2m (£29.38m) to date.
ENTERTAINMENT
Landing in ninth, Entertainment's Colossal recorded a disappointing $196,000 (£150,642) UK debut from its 145 sites, marking a site average of $1,350 (£1,039), and could struggle to sustain in the crowded market.
STUDIOCANAL
Mindhorn posted a $43,000 (£33,076) third weekend for $747,000 (£574,445) to date through Studiocanal.
ARROW FILMS
Expanding into 90 sites nationwide, Arrow Films' Whisky Galore! took a non-final $41,000 (£31,895) for $252,000 (£194,024) to date.
VERTIGO RELEASING
In its first weekend of nationwide release, Vertigo Releasing's The Secret Scripture uncovered $18,000 (£13,920) from its 38 sites for $201,000 (£155,146) to date, including its Northern Ireland release from March 24.
UPCOMING RELEASES
This week sees saturation releases for Pirates Of The Caribbean: Salazar's Revenge and Fox's Diary Of A Wimpy Kid: The Long Haul.
Kaleidoscope Entertainment's Spark receives a wide release, while Studiocanal's The Red Turtle, Thunderbird Releasing's I Am Not Madame Bovary and Curzon Artificial Eye's The Other Side Of Hope are among the films receiving a limited release.