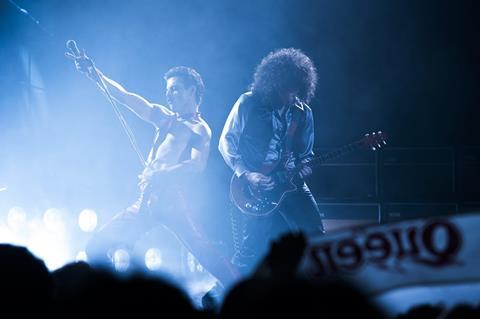 20th Century Fox will have high hopes for Bohemian Rhapsody this weekend, its biopic of UK rock group Queen.
The film got underway with a strong £1.62m opening Wednesday night, and will be looking to considerably build on that total in the coming days.
The good news for Fox is that glossy, music-themed films have been performing particularly well at the UK box office this year. The Greatest Showman grossed north of £50m, while Mamma Mia! Here We Go Again has taken £65.5m so far to make it the 14th highest-grossing film in UK history.
Both films also showed impressive legs throughout their runs. The Greatest Showman played a remarkable 16 weeks in UK cinemas and, boosted by sing-a-long screenings, posted five upticks throughout that run (an unusual weekend when the film takes more than in the previous weekend).
A further music-themed film to have held notably well is A Star Is Born, which fell just 6% from its first to third weekends.
Looking more specifically at band biopics, NWA biopic Straight Out Of Compton grossed £8.2m in the UK in 2015, Johnny Cash movie Walk The Line did £10.4m in 2006, and Joy Division film Control took £1.2m 2007.
However, none of those listed examples have the enduring popularity enjoyed by Queen in this country.
Also on release for Fox this weekend is George Tillman Jr.'s racially-charged The Hate U Give, which opened on Monday this week (Oct 22). The film premiered in Toronto and also played the BFI London Film Festival. It has grossed $11m in the US to date.
Signature Entertainment has thriller The Guilty, Gustav Möller's feature debut that premiered at Sundance and has travelled the festival circuit this year. The film is Denmark's submission for this year's foreign language Oscar.
Modern Films has Erik Poppe's Utøya – July 22, the searing true story of the July 2011 mass murder at a summer camp on the Norwegian island of Utøya, not to be confused with Paul Greengrass's July 22, which Netflix recently released.
Picturehouse has An Evening With Beverly Luff Linn, Jim Hosking's surreal comedy from Sundance this year.
MUBI will be giving a theatrical push to Don't Worry, He Won't Get Far On Foot, Gus Van Sant's Amazon-produced feature starring Joaquin Phoenix and Rooney Mara.
Bulldog will be releasing UK horror Possum, writer-director Matthew Holness's Sean Harris-starring surreal creature feature, which was backed by the BFI and premiered in Edinburgh this year.
Dogwoof has Bad Reputation, Kevin Kerslake's feature doc about rock star Joan Jett.
Elsewhere, Studiocanal is releasing a series of 4k restored John Carpenter titles, including Prince Of Darkness and They Live. Warner Bros is also handling a Halloween-themed re-release this weekend, the 30th anniversary of Tim Burton's Beetlejuice.
Key holdovers include Warner's A Star Is Born, Universal's Halloween, and Sony Pictures' Venom.