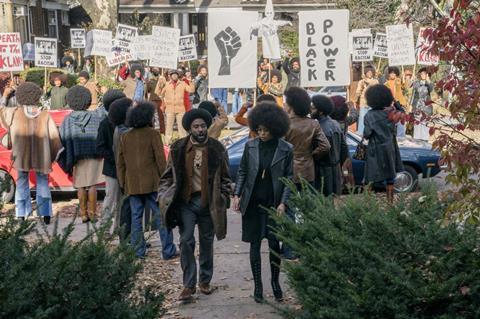 New releases led by Spike Lee's BlacKkKlansman and a duo of family animations are hoping to light up the UK box office this weekend (Aug 24-26) after last weekend was dominated by holdovers.
Universal is opening BlacKkKlansman wide on over 300 screens. The film, which premiered in competition at Cannes earlier this year, stars John David Washington (son of Denzel) and Adam Driver and is based on the true story of a Southern black policeman who went undercover in the Ku Klux Klan in the late1970s.
BlacKkKlansman grossed $10.8m when it opened in North America earlier this month and has garnered $25.2m to date.
Lee's most successful film in the UK is The 25th Hour which grossed £8.3m in 2006, followed by Malcolm X which grossed £1.4m in 1993.
Universal also has Mamma Mia: Here We Go Again still going strong. It is now the second highest grossing film of the year, behind Avengers: Inifinity War and just ahead of Black Panther.
It is a holiday weekend in England, Wales and Northern Ireland and the last big one of the summer holidays before children return to school in early September. (Scottish children returned earlier this month.) Two family animations will be hoping ot capture this audeince: Sony's Alpha is a survival story directed by Albert Hughes, about a boy and his dog set in the prehistoric past and starring Kodi Smit-McPhee; and Warner Bros' Luis And The Aliens, a European animation directed by Christoph Lauenstein, Wolfgang Lauenstein and Sean McCormack, is about a boy who befriends the aliens who crash land their spaceship on to his house.
Sony is also opening Sylvain White's horror title Slender Man, about a group of teenage girls haunted by a supernatural entity, while Warner Bros is expecting The Meg and Teen Titans Go will appeal to this last-gasp holiday audience.
Susanna Fogel's The Spy Who Dumped Me is opening wide in the UK this weekend for Lionsgate UK. The globe-trotting spy comedy stars Mila Kunis and Kate McKinnon with Justin Theroux. It has taken $30.8m to date in the US after opening on $12.1m in early August.
Further new titles include eOne's The Children Act, starring Emma Thompson and Stanley Tucci. Richard Eyre directs this drama based on the novel by Ian McEwan about a teenage boy, played by newcomer Fionn Whitehead, who is refusing a blood transfusion due to his religious beliefs. Produced by Duncan Kenworthy, the film premiered at Toronto last year.
StudioCanal is opening Brad Beruh's horror title Dead Night, while Signature Entertainment also has a horror in Dean Devlin's Bad Samaritan starring David Tennant.
Dogwoof is launching Eugene Jarecki's lyrical documentary title The King, which portrays Elvis Presley as a metaphor for the rise and fall of the American Dream.
UK producer 10ft Films is self-distributing Sean McAllister's documentary A Northern Soul, in which the director returns to his hometown of Hull in the north of England. He follows a warehouse worker hoping Hull's status as a 'City Of Culture' might provide the impetus for him to realise his long simmering artistic dreams and to help local children in the city, one in three of which live in poverty.
Hull City Council will defy the BBFC's advised 15 certificate to allow cinemas in the city to show the film to audiences with a 12A rating.
Disney has a weekend ahead of three strong holdovers: Christopher Robin, The Incredibles 2 and Ant Man And the Wasp.