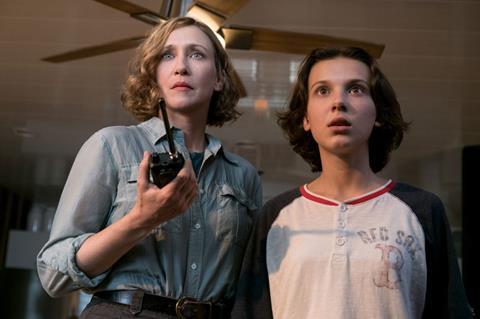 There are three high-profile new openers at the UK box office this weekend, all of which will battle with strong holdovers to land in the top five on the chart.
Last week saw Disney's Aladdin, Paramount's Rocketman and Universal's The Secret Life Of Pets 2 all post impressive debuts, and midweek takings will have likely been boosted by the schools holiday in the UK this week.
Warner Bros will be hoping its big-budget monster movie Godzilla: King Of The Monsters will smash through the competition. The film opened on Wednesday (May 29), giving it two days of previews heading into the weekend.
The latest entry in the Godzilla franchise is directed by Krampus filmmaker Michael Dougherty and features Millie Bobby Brown, Kyle Chandler, Vera Farmiga, Ken Watanabe and Sally Hawkins among its cast. The film is a sequel to Gareth Edwards' 2014 entry, which grossed £17.2m after a £6.4m opening (also via Warner Bros). Back in 1998, Sony International's Godzilla took £16m after a £4.2m opening.
Entertainment One has given a lengthy session of previews to Olivia Wilde's comedy Booksmart, which stars Kaitlyn Dever and Beanie Feldstein in the story of two academic superstars and best friends who, on the eve of their high school graduation, realise they should've worked less and partied more, resolving to try and cram four years' worth of fun into one evening. The film played a small amount of showings last weekend before beginning to roll out from Monday (May 27).
Universal is releasing Tate Taylor's Ma, the horror thriller starring Octavia Spencer as a lonely woman who befriends a group of teenagers and decides to let them party at her house, with events taking a strange turn. The film is the latest production from prolific US genre outfit Blumhouse Productions, which has credits including Get Out and the Paranormal Activity and Insidious franchises.
Director Taylor's previous credits include The Girl On The Train (£24m UK gross) and The Help (£4.3m).
Elsewhere, Curzon is handling the release of Laszlo Nemes' period drama Sunset. The director's previous film, the Oscar-winning Son Of Saul, took £502,774 also via Curzon in 2016.
Vertigo is handling the release of Jim Cummings' comedy Thunder Road, which premiered at SXSW last year, Parkland Entertainment has Oded Binnun and Mihal Brezis' drama Rory's Way, starring Brian Cox as a rugged old Scotsman who travels to San Francisco to seek medical treatment and moves in with his estranged son, and Studiocanal is releasing Jeanne Herry's French drama In Safe Hands.
Further holdovers include Lionsgate's John Wick: Chapter 3 – Parabellum and Warner Bros' Pokemon: Detective Pikachu.