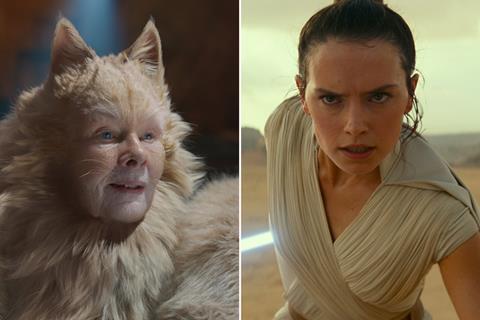 Star Wars: The Rise Of Skywalker receives its long-anticipated release at the UK box office this weekend, prompting most other distributors to step back and avoid the force of the Disney juggernaut.
The fantasy epic is billed as an end to the nine-movie "Skywalker saga" that began with the original Star Wars in 1977 and promises audiences the return of classic characters as well as answers to lingering questions in a bid to maximize box office.
But it may struggle to match the opening of Star Wars: The Force Awakens, which launched this concluding trilogy of films in 2015 with a new cast of characters and the return of Harrison Ford as Han Solo.
After recording the biggest single day ever for any film in the UK with £9.64m (Thurs, Dec 17), The Force Awakens broke another record by making £24.3m on its opening weekend, rising to £34m when added to those previews.
It was a record that was only broken in April this year when Avengers: Endgame took £31.4m across its Fri-Sun opening weekend and achieved the single biggest day with £12.1m on Saturday, April 27.
Directed by J.J. Abrams, The Force Awakens remains the highest-grossing film of all time at the UK box office, after taking £123.2m over its run.
Two years later, Star Wars: The Last Jedi continued the story and managed an impressive £20.3m over its three-day weekend opening, which rose to £28m when adding previews.
But word-of-mouth on the film, directed by Rian Johnson, could not match that of its predecessor and it would close with £82.7m. This still places it as the sixth highest-grossing film in UK box office history to date but the £40m gap between Episode XII and XIII in the saga is undeniable.
Disney will hope to best that result with the return of Abrams as director. Prior to his foray into the Force, Abrams directed Star Trek: Into Darkness, which opened on £8.43m in May 2013 and grossed £25.8m.
It also seemingly marks the last appearance of Daisy Ridley, Oscar Isaac, John Boyega, Adam Driver and the late Carrie Fisher in the Star Wars universe, a fact Disney may hope will deliver audiences looking for closure on the series.
Cats
Universal is the only major studio to go up against Star Wars, counter-programming with a big screen adaptation of Andrew Lloyd Webber musical Cats.
Directed by Tom Hooper, it boasts an all-star cast that includes Judi Dench, Ian McKellen, Taylor Swift, Idris Elba, Rebel Wilson, Jennifer Hudson and James Corden. They surround newcomer and ballerina Francesca Hayward.
However, a widely-derided trailer has been compounded by scathing reviews meaning Cats may find it a challenge to match previous Lloyd Webber adaptation Les Misérables, which opened with £8.13m in January 2013 and grossed £40.8m.
Hooper also directed Les Misérables, which proved a second consecutive box office hit after The King's Speech, which opened with £3.53m in January 2011 and went on to gross £45.7m as well pick up four Oscars.
But the filmmaker later stumbled with The Danish Girl, which opened on £1.43m and closed on £7.54m.
Musicals released over the festive period have proved big business in recent years with Fox's The Greatest Showman taking £47.9m following its release in December 2017 and Disney sequel Mary Poppins Returns reaching £44.5m after its release in December 2018.
Universal may be hoping that Cats will at least surpass older Lloyd Webber adaptations including Phantom Of The Opera, which made £9.15m in 2004, and Madonna-starring Evita, which took £14.2m in 1996.
Other titles
The only other films taking their chances against Star Wars this weekend are Bollywood action film Dabangg 3, which will be released by Yash Raj Films, and action thriller The Courier, starring Olga Kurylenko and Gary Oldman, which is getting a release by Signature Entertainment.
Disney will continue to grow its final box office tally for 2019 with animated sequel Frozen II, now on its fifth weekend, while Sony will have action sequel Jumanji: The Next Level going into its second weekend.
Other key holdovers include Universal's Last Christmas and Lionsgate's Knives Out.