Warner Bros' Harry Potter spin-off sequel Fantastic Beasts: The Crimes Of Grindelwald took off with a strong £12.3m three-day opening last weekend at the UK box office.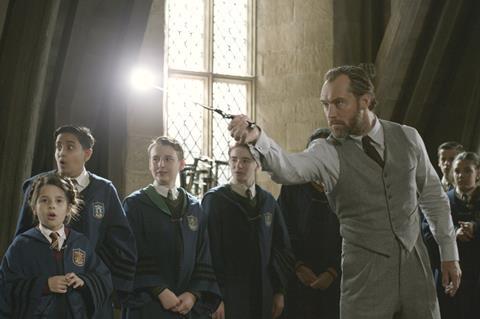 While the takings were down on predecessor Fantastic Beasts And Where To Find Them's £15.3m opening in November 2016, the number still saw the film debut comfortably at the top of the chart and it will be tough to beat this weekend.
There are several new openers vying for the crown but no clear frontrunner to push Fantastic Beasts.
One challenger is eOne's Nativity Rocks!, the fourth entry in the UK series of family Christmas films from director Debbie Isitt and producer Nick Jones.
To date, the series has proven immensely successful in the UK, all released via eOne. Nativity! kicked off with £785,887 in 2009 and built to an impressive £5.3m, sequel Nativity 2: Danger In The Manger! started with £1.6m and ended on £9.3m, while Nativity 3: Dude, Where's My Donkey? Began on £1.8m and ended on £7.6m.
With Christmas one month away, there could be a growing appetite for more Christmas-themed fare, with The Grinch having been on release for three weeks.
Further challenges could come in the form of Lionsgate's Robin Hood reboot and Sony Pictures' The Girl In The Spider's Web . But it is understood neither has impressed in early previews.
Robin Hood has good box office pedigree in the form of Kingsman franchise front man Taron Egerton, who takes the title role and stars alongside Jamie Foxx's Little John, Ben Mendelsohn's Sheriff of Nottingham, Eve Hewson's Marian and Jamie Dornan's Will Scarlett.
Reviews have been mixed for the film, and the question remains whether audiences have the appetite for another retelling of the steal-from-the-rich, give-to-the-poor franchise. Eight years ago, Ridley Scott'sRobin Hood, starring Russell Crowe and his memorably muddled accent, got underway with a decent £5.8m but ended on a soft £15.6m.
Facing a similar challenge is The Girl In The Spiders' Web, featuring The Crown and First Man star Claire Foy as Lisbeth Salander. It is a reboot of the series of film adaptations originally based on Stieg Larsson's series of crime novels.
Reviews of the film have been fairly poor and there is again the question of appetite, with the film coming eight years after David Fincher's English-language remake of the original Swedish version of The Girl With The Dragon Tattoo. Fincher's version starred Rooney Mara as Salander, alongside Daniel Craig. That film opened with £4.3m and ended on £12.3m. The Girl In The Spiders' Web also doesn't have the pedigree of being based on an original Larsson novel, having instead been adapted by David Lagercrantz's spin-off, written some 10 years after Larsson's death.
Further new openers this week include Thunderbird's Shoplifters, Hirokazu Koreeda's Palme d'Or- winning drama about a family of petty criminals in Japan. The film will be looking to become one of the year's rare success stories in what has been a difficult 12 months for arthouse foreign-language releases.
Also on the list is CinEvent's Pokemon The Movie: The Power Of Us, the latest animated feature in the Pokemon franchise, which is screening for one day on November 24 before returning to cinemas on December.
Universal has Sam Levinson's crime comedy Assassination Nation, 20th Century Fox has Hindi romance Student Of The Year 2, Studiocanal is releasing a 4k restoration of John Carpenter's Escape From New York, Paramount has Tyler Perry's comedy Nobody's Fool, and Peccadillo Pictures has Steve McLean's Postcards From London, which is set in an imaginary vision of London's Soho.
Key holdovers include Universal's The Grinch, 20th Century Fox's Bohemian Rhapsody and Widows, Warner Bros' A Star Is Born, and MUBI's Suspiria.