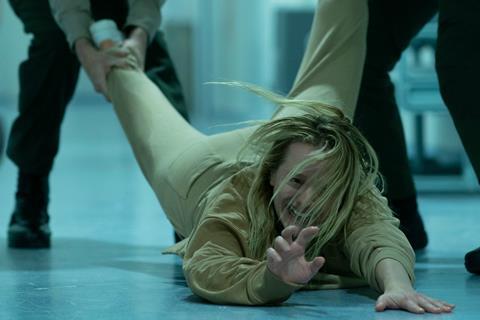 The widespread closure of cinemas across the UK due to the coronavirus outbreak has seen box office gains grind to a halt.
Theatres were still admitting audiences at the start of last week, despite a significant drop in attendance as the public heeded government advice over "social distancing".
But all major cinema chains announced they would close their doors mid-week, following advice from UK prime minister Boris Johnson for people to avoid such venues, and the premier upgraded this to a call for all cinemas to close from end of business Friday (March 20).
The result added up to small takings for those films still in theaters while releases such as A Quiet Place Part II, Marie Curie biopic Radioactive and The Big Lebowski spin-off The Jesus Rolls have been postponed.
Universal
Despite most audiences steering clear of public venues, The Invisible Man continued to perform relatively well and took £105,000 ahead of the closures, bringing its total to £6.66m. This just edges it into the top 10 grosses by Blumhouse Productions titles in the UK, unseating Sinister, which took £6.6m in 2012.
On its second week of release, fellow Blumhouse title The Hunt added £73,000 to bring its cume to £615,000. The thriller, in which elite members of society hunt people for sport, had previously been postponed from September in the wake of a spate of mass shootings in the US.
Period comedy drama Emma managed a further £28,000 to bring its total to £7.44m after six weeks while family adventure Dolittle added just under £9,000 to take it to £15.89m after seven weeks.
Universal announced on Tuesday that The Invisible Man, The Hunt, Emma and Trolls World Tour would be made available on demand day-and-date because of the coronavirus crisis.
Lionsgate
Feelgood choir drama Military Wives took a relatively strong £85,000 on its third week to record a total of £2.47m to date.
Disney
Disney's Pixar animation Onward took £75,000 on its third week and takes its total to £5.275m. The studio announced it would receive an early digital release in the US and Canada on its Disney+ service on April 3, although it is understood this will not be the case in the UK.
Philippa Lowthorpe's Miss World drama Misbehaviour took an additional £70,000 on its second week to reach a total of £420,000, while Harrison Ford adventure The Call Of The Wild remained flat to record a cume of £2.77m on its fifth outing.
Curzon/Studiocanal
Bong Joon Ho's Oscar-winning Parasite managed to edge past the £12m mark, taking £61,425 on its sixth week of release to record a total of £12.03. It had previously broken the record to become the highest-grossing non-English language film of all time in the UK.
Sony
Sci-fi action feature Bloodshot, starring Vin Diesel, drew £55,000 on its second week, taking it to a total of £506,000 to date. It was another title that was rushed onto digital platforms in the US, just 11 days after opening in cinemas in the territory.
Blumhouse's Fantasy Island took £26,000 on its third weekend for a cume of £750,000.
eOne
Todd Haynes' Dark Waters dipped to £38,000, bringing it to £2.45m to date while the award-winning 1917 made £27,000 on its eleventh session, taking it up to £43.73m.
STX
Dave Bautista action-comedy My Spy added £36,000 on its second week for a cume of £381,000.
Altitude/Element
Irish drama Calm With Horses took a further £25,000 for a total of £56,000. The film, which was handled in Ireland by Element Distribution, will receive an early digital release on April 27 on the platforms including iTunes, Amazon, Curzon Home Cinema and BFI Player.
Revealing the challenges of independent releases in the wake of the Covid-19 outbreak, the film opened in 123 locations on March 13 but played at just three sites on Thursday, March 19 and one on March 20 – the last day on which cinemas were open.
Curzon
Céline Sciamma's Portrait Of A Lady On Fire added close to £14,000 on its fourth weekend for a total of £557,000. The distributor is now driving audiences to watch the film on its streaming platform, Curzon Home Cinema, where the romantic drama continues to rank as one of its most-watched titles.
The platform also launched Hirokazu Kore-Eda's English and French-language drama The Truth on March 20, which was originally its theatrical release date. The move – coupled with cinema closures – has seen the platform record its highest viewing figures to date, although numbers have not been released.
Paramount
Sonic The Hedgehog reached an impressive cume of £19.01m after five weeks on release.
Warner Bros
DC Extended Universe title Birds Of Prey added just £8,580 on its seventh session but has taken £8.82m in total. It is another major release set to be made available early on digital platforms in the US, on March 24, as audiences self-isolate during the pandemic.