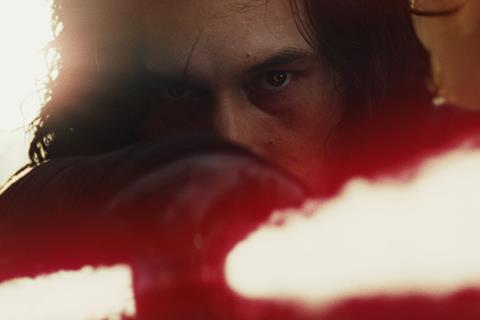 Dollar amounts are based on today's conversions.
Disney
Star Wars: The Last Jedi landed with a huge four-day total of $37.56m (£28m).
Disney made The Last Jedi the UK's widest ever release by opening it in 708 sites, eclipsing Star Wars: The Force Awakens and The BFG's 680 sites.
The haul makes the film the third-biggest opening of all time behind The Force Awakens' $50.5m (£33.9m) and Spectre's $61.5m (£41.3m), though the latter had a mammoth seven-day opening.
The film's Fri-Sun total was $27.23m (£20.3m), narrowly besting fellow 2017 release Beauty And The Beast's $26.31m (£19.7m), though that film opened on 567 screens.
Overall, the film is third on the UK Fri-Sun list, behind The Force Awakens ($32.49m / £24.33m), Harry Potter And The Deathly Hallows - Part 2 ($31.72m / £23.75m).
The Last Jedi posted an opening day total of $10.2m (£7.6m) and its Saturday result was $10.15m (£7.6m), the fifth-biggest day ever at the UK box office and the third best Saturday, behind The Force Awakens and Beauty And The Beast.
While the result is undoubtedly a resounding success, Disney may have hoped that by making the film the widest ever UK release, it may have beaten even more records.
In the international field, The Last Jedi delivered an estimated $230m (excluding China, which opens on January 5), adding to its US bow of $220m for a combined opening of $450m, the fifth biggest opening of all time.
Studiocanal
The ever-green Paddington 2 added a further $1.82m (£1.36m) this weekend to take its running total to $42.03m (£31.37m). With plenty of time left to run, the original's final gross of $50.61m (£37.9m) is looking ever closer.
Paramount
Narrowly behind Paddington 2 was Daddy's Home 2, which posted an impressive hold, falling just 9% to $1.38m (£1.03m), proving that counter-programming to a Star Wars release can still deliver. The film now sits on a cume of $15.21m (£11.35m).
Fox
Still previewing, family animation Ferdinand added another $1.34m (£1m) this weekend. Its previews now sit on a running total of $2.16m (£1.61m) ahead of its official UK release on Friday, Dec 22.
Lionsgate
Wonder fell 37% this weekend, posting $627,135 (£467,987) for a cume to-date of $4.7m (£3.51m).
Arrow Films
Blade Of The Immortal suffered a big 88% drop, adding $3,892 (£2,901) for a cume of $109,459 (£81,592). Arrow's strategy of pushing the film out as the year's widest arthouse foreign language release has fallen flat.
Mountains May Depart opened in six sites with $4,179 (£3,115), a decent average of $696 (£519). With previews, the film is up to $5,537 (£4,128).
Altitude
The Florida Project continues to run, dropping 58% this weekend with $13,930 (£10,389). It now sits on a cume of $1.05m (£785,800).
Ai Weiwei doc Human Flow fell 48%, adding $10,924 (£8,148) for takings to-date of $156,094 (£116,418).
Loving Vincent fell 31% and now sits on $1.23m (£916,958) after adding $3,509 (£2,617) this weekend.
Shot Caller opened day-and-date in three locations and sits on a cume of $1,462 (£1,090).
Dogwoof
Specialist doc Mountain, narrated by Williem Dafoe, took $56,096 (£41,813) from fifteen sites, including previews.
Trinity Film
Distributing under its Cine Asia label, Trinity released Xiaogang Feng's Mandarin-language Youth drama exclusively in nine Odeon screens this weekend. The film took $14,706 (£10,966) for a decent site average of $1,633 £1,218.