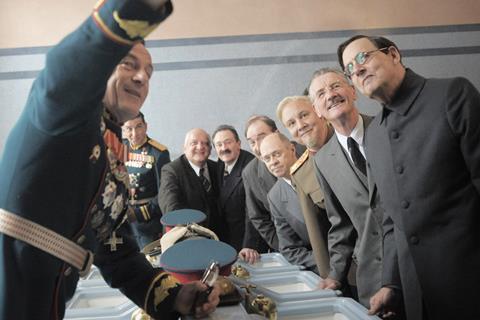 UK TOP FIVE
| Ranking | Film/Distributor | Weekend gross | Running total |
| --- | --- | --- | --- |
| 1 | Blade Runner 2049 (Sony) | $2.7m (£1.8m) | $20.7m (£15.7m) |
| 2 | Geostorm (WB) | $2.13m (£1.62m) | $2.13m (£1.62m) |
| 3 | The Lego Ninjago Movie (WB) | $1.77m (£1.34m) | $7.3m (£5.55m) |
| 4 | Happy Death Day (Universal) | $1.32m (£997,536) | $1.32m (£997,536) |
| 5 | The Death Of Stalin (eOne) | $1.31m (£995,024) | $1.31m (£995,024) |
(Note - Dollar conversions are based on today's rates)
EONE
The Death Of Stalin enjoyed an excellent start to its UK run as it rounded off this week's top five.
eOne's political comedy posted a bow of $1.31m (£995,024), including $113,000 (£85,639) in previews, from its 138 sites, achieving an impressivesite average of $9,494 (£7,210) which marked the highest of the week.
The debut is double In The Loop's $618,000 (£468,954) from 104 sites, with that film going on to take $2.84m (£2.16m) in the UK, a tally that The Death Of Stalin should easily overtake.
Also for eOne, The Ritual fell a steep 74% with a $136,000 (£103,030) second weekend for a disappointing $982,000 (£745,974) to date.
SONY
Having led the Fri-Sun market last week, Blade Runner 2049 officially returned to the top of the UK box office.
Sony's critically acclaimed sci-fi sequel fell 43% on its way to a $2.7m (£1.8m) third weekend for $20.7m (£15.7m) so far, leaving it with a chance of becoming the 17th release of 2017 to hit £20m.
The arrival of Thor: Ragnarok tomorrow (October 24) will mean Blade Runner 2049 won't retain the lead this coming weekend though.
Also for Sony, Marshall could only manage a $20,000 (£15,000) UK bow from its 77 sites.
WARNER BROS
As it did in the US, Geostorm had to settle for second place on its UK debut.
Battling negative reviews, Warner Bros' disaster movie whipped up a decent $2.13m (£1.62m) from its 478 sites, marking a site average of $4,460 (£3,387), higher than Blade Runner 2049.
While Geostorm didn't come close to the heights of disaster movies like The Day After Tomorrow, it did at least manage to top Into The Storm's $1.51m (£1.15m) debut from 431 sites.
Also for Warner Bros, The Lego Ninjago Movie fell 36% (excluding previews) on its way to a $1.77m (£1.34m) second weekend.
The latest outing in the popular animated series has now assembled $7.3m (£5.55m) in the UK and while it will benefit from this week's school holidays, it won't come close to the hauls of the previous two Lego movies.
It has now amassed an excellent $42.3m (£32.12m) after seven weeks in play.
UNIVERSAL
Happy Death Day arrived in time for Halloween, avoiding opening against Jigsaw, and charted fourth.
Universal's latest Blumhouse horror scared up a solid $1.32m (£997,536) from its 415 sites, marking a site average of $3,166 (£2,404), and will look to attract the teen audience in the lead-up to Halloween.
It's already outgrossed director Christopher Landon's last UK outing, Scouts Guide To The Zombie Apocalypse.
Also for Universal, The Snowman dropped 57% as it uncovered $778,000 (£590,924) on its second weekend for $3.58m (£2.72m) to date, while Victoria And Abdul took $219,000 (£166,104) for $12.4m (£9.43m)
Despicable Me 3 has now amassed a terrific $62.3m (£47.31m).
LIONSGATE
My Little Pony charted sixth on its UK debut, having opened in Scottish cinemas last week.
Lionsgate's animation posted a non-final opening of $1.21m (£915,266) from its 532 sites, including $153,000 (£115,945) from 41 Scottish sites. Like The Lego Ninjago Movie, it should do well over the coming week.
Also for Lionsgate, Irish hit Maze added $50,000 (£38,073) for $929,000 (£705,732) to date.
FOX
Falling 35% in its fifth weekend, Fox's Kingsman: The Golden Circle shot to a further non-final $1.16m (£882,930) for a strong $30.8m (£23.36m) to date.
Also for Fox, The Mountain Between Us journeyed to a $357,000 (£270,848) third weekend for $3.11m (£2.36m) to date, while Goodbye Christopher Robin added $150,000 (£114,218) for $3.41m (£2.59m) so far.
Captain Underpants stands at $10.8m (£8.18m).
PICTUREHOUSE ENTERTAINMENT
The Party followed up its strong opening with only a 17% drop (excluding previews) on its way to a $242,000 (£183,488) second weekend.
Picturehouse Entertainment's arthouse comedy is now up to a healthy $794,000 (£602,906), but now faces stiff competition for the midweek crowd from The Death Of Stalin.
TRAFALGAR RELEASING
Bolshoi Ballet's production of Le Corsaire danced to a non-final $107,000 (£83,183) from its 165 sites, with 30 still to report, on Sunday (October 22) through Trafalgar Releasing.
ALTITUDE
Falling a slim 28% (excluding previews), Altitude's fully painted animated feature Loving Vincent recorded a non-final $96,000 (£72,605) from its 58 reported sites for $609,000 (£462,151) to date.
BBC EARTH FILMS
Playing mainly matinees over the weekend, BBC Earth Films' Earth: One Amazing Day grossed $37,000 (£28,407) from its 88 screenings with one site still to report.
CURZON ARTIFICIAL EYE
Including previews, Curzon Artificial Eye's I Am Not A Witch posted a UK bow of $32,000 (£24,212) from its 17 sites.
MUNRO FILMS
From its 23 sites through Munro Films, Brawl In Cell Block 99 posted a UK debut of $6,800 (£5,177), down on Bone Tomahawk's $39,000 (£29,465) bow, although that did come from 52 sites.
UPCOMING RELEASES
This week sees saturation releases for Disney's Thor: Ragnarok (opens October 24), Lionsgate's Jigsaw (opens October 26) and STX International's Breathe.
Sony's Call Me By Your Name receives a wide release, while Trafalgar Releasing's Grace Jones: Bloodlight And Bami and Studiocanal's The Merciless are among the films receiving a limited release.