Overall market suffers big drops due to the hot weather.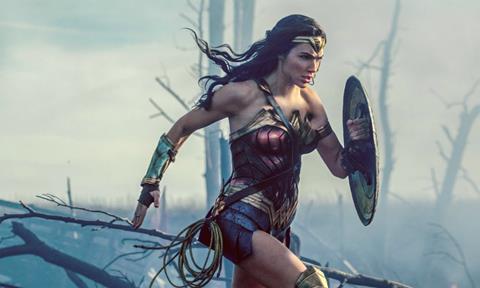 (Note - Dollar conversions are based on today's rates)
UK TOP FIVE
| Ranking | Film/Distributor | Weekend gross | Running total |
| --- | --- | --- | --- |
| 1 | Wonder Woman (WB) | $2.38m (£1.86m) | $20.8m (£16.29m) |
| 2 | The Mummy (Universal) | $1.5m (£1.17m) | $7.8m (£6.11m) |
| 3 | Pirates Of The Caribbean: Salazar's Revenge (Disney) | $957,000 (£748,000) | $22.3m (£17.4m) |
| 4 | Baywatch (Paramount) | $655,000 (£512,000) | $10.3m (£8.07m) |
| 5 | Churchill (Lionsgate) | $501,000 (£391,148) | $501,000 (£391,148) |
WARNER BROS
In a market affected by the hot weather, Wonder Woman became the first film since Beauty And The Beast in late March to record three weeks as the UK's number one.
Warner Bros' latest DC outing dropped a respectable 47% with a $2.38m (£1.86m) third weekend for a decent $20.8m (£16.29m) to date, with it soon to surpass Batman Begins' $21m (£16.42m) UK result.
The arrival of Transformers: The Last Knight will prevent Wonder Woman from a fourth week at the top of the box office, but it should still reach £20m sooner rather than later.
UNIVERSAL
The Mummy dropped a steep 65% as it posted a non-final $1.5m (£1.17m) second weekend.
Universal's reboot is up to $7.8m (£6.11m) after ten days in play and its holdover this coming weekend will give a better indication whether its big drop came from the hot weather or apathy towards the film.
It won't come close to the $22.3m (£17.4m) result of the 1999 version of The Mummy, but at least it's overtaken Universal's first attempt to kickstart the Dark Universe, Dracula Untold's $6.4m (£5m) total.
DISNEY
Pirates Of The Caribbean: Salazar's Revenge fell around 50% as it sailed to a $957,000 (£748,000) fourth weekend.
Disney's latest adventure for Captain Jack Sparrow is up to $22.3m (£17.4m) and will hope to hold steady enough to pass £20m.
Also for Disney, Guardians Of The Galaxy Vol. 2 and Beauty And The Beast have amassed $52m (£40.6m) and $92.5m (£72.3m), respectively.
PARAMOUNT
Falling 55% in its third weekend, Paramount's Baywatch swam to a non-final $655,000 (£512,000) for $10.3m (£8.07m) to date.
LIONSGATE
The week's highest new entry came in the form of Lionsgate's Churchill with a $501,000 (£391,148) UK opening from its 345 sites, which it will hope to build on midweek due to its older-skewing audience.
FOX
Including $69,000 (£54,273) in previews, Fox's Gifted could only manage a non-final $390,000 (£304,421) debut from its 323 sites.
Also for Fox, My Cousin Rachel dropped 58% with a $349,000 (£272,500) second weekend for $2m (£1.56m) to date, while Diary Of A Wimpy Kid: The Long Haul stands at $6.5m (£5.11m) after four weeks.
The Boss Baby and Alien: Covenant have grossed $36.2m (£28.28m) and $16.4m (£12.81m), respectively.
DOGWOOF
Whitney: Can I Be Me enjoyed a $121,000 (£94,713) UK opening, including previews, from its 60 sites through Dogwoof.
ALTITUDE
Released day-and-date on Sky Cinema, Altitude's Rock Dog posted a UK bow of $17,000 (£13,217) from its 97 sites.
BFI DISTRIBUTION
From its 10 sites through BFI Distribution, Mark Cousins' Stockholm My Love grossed $7,200 (£5,606) and screens at the Edinburgh Filmhouse tonight [June 19] and on Friday [June 23] at the Curzon Soho, both with a Q&A with Neneh Cherry.
UPCOMING RELEASES
This week sees a saturation release for Paramount's Transformers: The Last Knight (opens June 22), while eOne's Hampstead and Universal's The Book Of Henry both receive wide releases.
Curzon Artificial Eye's Seasons In Quincy: The Four Portraits Of John Berger and Studiocanal's Souvenir are among the films receiving a limited release.