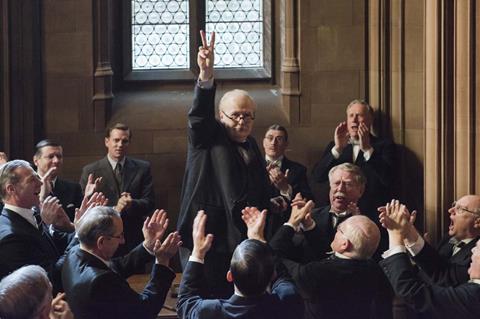 UK film and talent won 32 prizes - or 17% of possible awards - in the 2017/2018 awards cycle, according to BFI figures.
The period covers five of the major film festivals in 2017 (Sundance, Berlin, Cannes, Venice and Toronto) and the Academy Awards and Bafta Film Awards in 2018.
This is up compared to 2016/2017, when it was 22 winners (12%), and is evidence of a strong British showing at the Baftas and Oscars, according to the BFI.
The report shows that UK film and British talent won 11 awards at the Sundance, Berlin, Cannes and Toronto film festivals, 15 at the Baftas and six at the Oscars.
Prominent British winners across the year at festivals include Francis Lee (directing award: world cinema dramatic at Sundance, for God's Own Country), Lynne Ramsay (best screenplay at Cannes for You Were Never Really Here), and Charlotte Rampling (best actress at Venice for Hannah).
UK winners at the major awards ceremonies included Three Billboards Outside Ebbing, Missouri (best film and outstanding British film at the Baftas) and Gary Oldman (best actor at the Oscars for Darkest Hour).
The BFI also organised the data by calendar year. Across 2017, UK films and talent won 21 awards (11%), down compared to 2016 (29 awards, or 15%).
The watermark for UK talent remains 2009, with 36 winners.