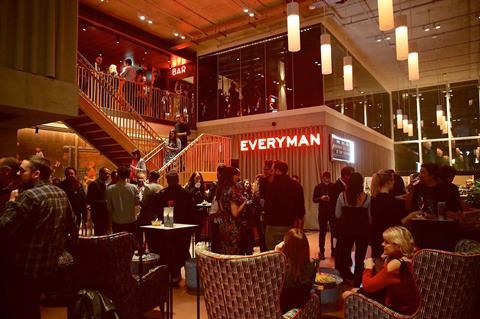 Independent venues in England and Scotland are starting to lay out their plans for welcoming back audiences with four weeks exactly before indoor cinemas are hoping to be allowed to reopen.
However, two major chains have yet to confirm their plans.
The Light Cinemas, a mini-chain with 10 venues situated around England, has confirmed to Screen that, subject to government approval, it intends to open all its sites following the lifting of restrictions on May 17.
"Full preparations are in place and we are pleased to see an exciting slate of films emerging over the coming months," said Keith Pullinger, founder and deputy chairman of The Light Cinemas. "We remain confident in the future of big screen experience and are looking forward to welcoming back our guests as cinema returns stronger than ever."
London's BFI Southbank has confirmed it will reopen from May 17, so long as the easing of restrictions continues according to the roadmap set out by the government for England in February.
Its programming will include 'Dream Palace', a season celebrating "the joy of the big screen experience" according to the BFI. Filmmakers including Edgar Wright, Gurinder Chadha, Asif Kapadia, Peter Strickland, Luca Guadagnino, Prano Bailey-Bond and Francis Lee have each chosen a film they would most like to see at the venue; the filmmakers will each introduce their chosen film themselves, through a mix of in-person and virtual introductions.
Further programming includes 'Her Voice', a season celebrating black female singers on screen; and the first part of a retrospective on US filmmaker Robert Altman.
The BFI Southbank was confirmed last week as a satellite venue for the Oscars ceremony on Sunday April 25, although public attendance will not be permitted at that stage.
Further independent venues aiming for a prompt reopening include Manchester's HOME, which says it is "planning to open" on May 17; and Newcastle-upon-Tyne's Tyneside Cinema, which has been closed since March 2020, and says it is aiming for "a re-open date as close to May 17 as possible."
Multiplex chains
Last month Cineworld, the UK's largest chain by market share with 23% confirmed it would reopen its venues from May, including the Picturehouse chain (2.2%) which the company owns, although it is not yet confirmed this will be May 17. Further chains to have confirmed a May reopening are Showcase (6% market share); and Everyman (3.1%) in 33 of its 35 sites, with guidance still to be confirmed for Scotland where Everyman Glasgow is located, and a date yet to be announced for Wales and Everyman Cardiff.
Odeon and Vue, the second- and third-largest chains in the territory with 21.9% and 20% share respectively, are yet to confirm their reopening plans. Both have told Screen that there will be announcements regarding reopening in the coming weeks. Curzon Cinemas has also yet to reveal when it will reopen its 13 sites.