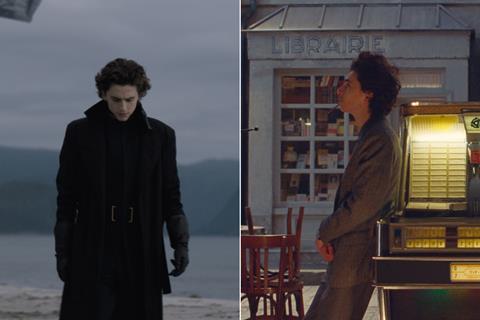 It is a Timothée Chalamet double bill at the UK-Ireland box offiice this weekend as Warner Bros' sci-fi blockbuster Dune and Wes Anderson's latest film The French Dispatch are among the openers set to converge with strong holdovers.
Dune is a third blockbuster title in just over three weeks, following No Time To Die on September 30 and Venom: Let There Be Carnage on October 15.
Denis Villeneuve's film opens in 668 locations from today; it grossed £982,548 from Thursday previews, including in Imax and 3D.
The film is part one of the latest adaptation of Frank Herbert's 1965 novel of the same name. Set in the far future, it follows a young man from a noble family thrust into a war on a dangerous desert planet. Villeneuve's version features an all-star cast led by Chalamet, alongside Zendaya, Rebecca Ferguson, Oscar Isaac, Josh Brolin, Javier Bardem and Dave Bautista.
David Lynch previously adapted Herbert's novel in a 1984 version, starring Kyle MacLachlan; while previous versions failed to make it to production, including famously an attempt by Chilean-French director Alejandro Jodorowsky in the 1970s.
Villeneuve's previous titles have performed well at the UK-Ireland box office, including Blade Runner 2049 (opened: £6.1m, closed: £19.2m), Arrival (£2.9m, £9.7m) and Sicario (£1.6m, £5m). However, he is yet to cross the £20m barrier on a single film, that is something of a benchmark for blockbuster.
With Dune having performed well on an international rollout since its debut at Venice Film Festival in September, Warner Bros will be expecting Dune to pass the £20m mark.
Disney is releasing the latest of the Searchlight Pictures titles it picked up through its 2019 acquisition of Fox – Wes Anderson's comedy-drama The French Dispatch, comprised of three separate stories from the outpost of an American newspaper in a fictional 20th century French city.
The film wrapped in March 2019 and was set to debut at Cannes 2020, before pandemic delays pushed it back to this year's festival.
Anderson regulars Adrien Brody, Tilda Swinton, Frances McDormand, Léa Seydoux, Jeffrey Wright, Mathieu Amalric, Bill Murray, Owen Wilson, Tony Revolori, Willem Dafoe, Edward Norton, Jason Schwartzmann and Saoirse Ronan are on the cast, alongside newcomers including Chalamet and Benicio Del Toro.
The director's highest-grossing title in the UK and Ireland is 2014's The Grand Budapest Hotel with £11.5m, while other highlights include 2009's Fantastic Mr. Fox with £9.3m, 2018's Isle Of Dogs with £6m and 2002's The Royal Tenenbaums with £3.3m.
Busy box office
Two other new titles are out this weekend on significant location numbers, as the latest test of box office strength after four films crossed the £1m mark last weekend for the first time since February 2020.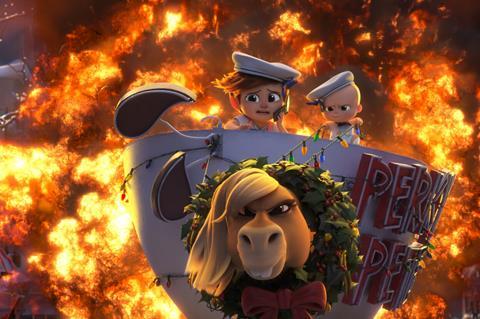 Universal has The Boss Baby 2 in 609 sites. The first film opened to just over £8m through Fox in April 2017, going on to a sizeable £29.1m. The crowded release calendar may put that figure beyond the sequel, but there is still enduring interest – and a visible marketing campaign – for the character.
It is voiced by Alec Baldwin, who has been involved in an incident on the US set of his new film Rust in the last 24 hours, in which he accidentally shot cinematographer Halyna Hutchins and director Joel Souza, with Hutchins subsequently dying of her injuries.
Universal is also releasing Stephen Chbosky's Dear Evan Hansen, the film adaptation of the stage musical with music and lyrics by Benj Pasek and Justin Paul, based on Steven Levenson's book. It will play in 275 sites.
Chbosky previously directed 2012's The Perks Of Being A Wallflower (opened: £827,983, closed: £2.5m) based on his own novel of the same name; while he has writer credits on 2017's Beauty And The Beast (£72.5m total) and Wonder (£5m total).
Netflix is conducting limited theatrical releases for two of its original titles: Jeymes Samuel's The Harder They Fall, fresh from opening the BFI London Film Festival earlier this month; and Alexandre Moratto's 7 Prisoners, which debuted in Venice Film Festival's Horizons Extra strand last month.
Fractured Visions is releasing Zach Lampugh's mockumentary Bigfoot Hunters, while Generation Media has animation Dennis And Gnasher: Unleashed! Operation Noise, and Curzon is playing Nine Antico's comedy Playlist in its Bloomsbury venue.
Holdovers will pose a stern test to the new titles this weekend; three-time number one No Time To Die is up to £73.3m, and will look to stay above the £5m mark this weekend, after taking £8.4m last time out. Also doing well is Sony's Venom: Let There Be Carnage, up to £8.7m; plus the second weekend of Halloween Kills and third of The Addams Family 2, both for Universal.