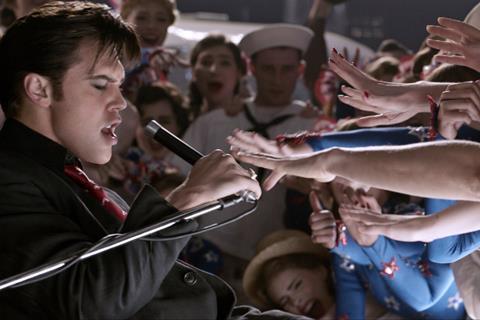 Warner Bros' Elvis is the headline act in 742 cinemas across the UK and Ireland this weekend – the latest post-pandemic title to break the 700-location barrier.
It usurps Top Gun: Maverick's 737 screens from May as the fifth-widest opening of all time in the territory. Maverick took a sizeable £11.2m three-day opening, with £15.9m including preview days. It was up to £57.4m as of last weekend – the latest signifier of a successful post-pandemic box office recovery for blockbusters.
Elvis is the eighth post-pandemic title to open in more than 700 cinemas, with only seven titles having ever topped that mark prior to the March 2020 lockdown.
The widest of these, Universal's James Bond title No Time To Die, opened to a huge £21m three-day and £25.9m total from 772 locations in September/October last year; with Top Gun: Maverick and Warner Bros' The Batman (£13.5m from 709 locations) also both starting strongly.
The wide release is no guarantee of huge numbers though. Downton Abbey: A New Era recorded the second-widest opening of all time with 746 sites, but took a comparatively slim £3.1m – down 40% on the opening of the first film. Fantastic Beasts: The Secrets Of Dumbledore did better with £5.9m from 714 sites, but was still significantly down on the £15.3m and £12.3m openings of the first two titles in the series.
Belfast started with £2.2m from 705 sites, but is considered a better result since the feature is a non-franchise title and not based on pre-existing characters.
Films about music legends have proved big box office business in recent years. Fox (since bought by Disney) scored a hit with Queen story Bohemian Rhapsody, which opened to £9.5m in 2018 on its way to a £55.4m cume. Paramount's Elton John biopic Rocketman also performed well, starting with £5.3m in 2019 on its way to £23.5m.
Whether the British heritage of those artists will mean lesser takings for US icon Elvis remains to be seen.
Australian director Baz Luhrmann has pedigree for music-heavy films, from musicals such as Oscar-winning Moulin Rouge, which opened to £2.4m and closed on £18.5m, a big result for 2001; to pop-filled literary adaptations such as The Great Gatsby, which started with £4.1m in 2013, closing on £15.7m.
Films about Elvis Presley are relatively few for an artist of his stature, with the executors of his estate being cautious with licenses. He appears indirectly in Robert Zemeckis' 1994 Forrest Gump, and was the subject of 2017 documentary The King by Eugene Jarecki.
The Black Phone, Netflix latest
Despite Elvis' substantial presence, there is another studio release this weekend: Scott Derrickson's The Black Phone through Universal, with final location numbers still to be confirmed.
In the film, after being abducted by a child killer and locked in a soundproof basement, a 13-year-old boy starts receiving calls on a disconnected phone from the killer's previous victims. The cast includes Ethan Hawke as a character named The Grabber.
It is directed by Scott Derrickson for Jason Blum's Blumhouse Productions. Horror habitué Derrickson previously collaborated with Blumhouse on the Sinister franhise, directing the first film (opened: £1.4m; closed: £6.6m) and writing and producing the second (£1.1m; £3.4m); as well as directing Marvel's Doctor Strange (opened: £9.3m; closed: £23.2m).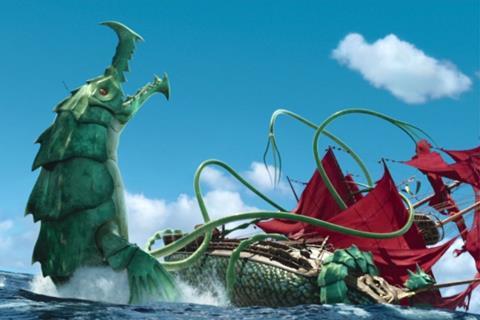 Netflix is conducting a limited theatrical release for Chris Williams' animation The Sea Beast, before releasing globally on the streaming platform on July 8.
The film, about a young girl who stows away on a ship that hunts sea monsters, had its world premiere at Annecy International Animation Festival last week. Netflix does not provide location numbers for the titles it releases theatrically in the territory.
Sovereign Films has Damien Odoul's Berlinale 2021 title Theo And The Metamorphosis in four locations this weekend before a further rollout across the next month; Mubi has Jessica Beshir's Sundance 2021 doc Faya Dayi, which won the Truer Than Fiction award at the Film Independent Spirit Awards, in seven sites.
Modern Films is opening Jacqueline Lentzou's Berlinale 2021 drama Moon, 66 Questions; while Studio Soho has Emmanuel Courcol's Cannes 2020 label comedy The Big Hit.
In repertory titles, Curzon has a 4k restoration of Wim Wenders' Wings Of Desire in 26 sites; while Park Circus is playing a 40th anniversary re-release of Ted Kotcheff's Sylvester Stallone action film First Blood in 160 sites.
While Elvis should have enough to top the charts, two key holdovers lie in wait should it stumble: Jurassic World: Dominion's third weekend for Universal, and Top Gun: Maverick's fifth for Paramount, plus a second weekend for Disney's Lightyear.