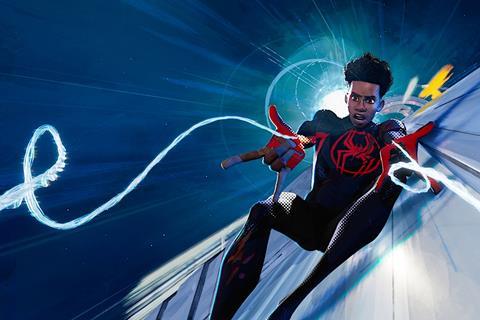 Spider-Man: Across The Spider-Verse leads this weekend's new releases, hoping to catch audiences for Sony at a wide release of 674 locations.
The computer animated sequel to Spider-Man: Into The Spider-Verse sees lead character Miles Morales now aged 15 (voiced by Shameik Moore) and pushed to take greater risks to protect those he cares about, grappling with a villain who can jump between dimensions, and his crush, a Spider-Woman from a different realm, voiced by Hailee Steinfeld.
The voice cast also includes Brian Tyree Henry, Luna Lauren Velez, Jason Schwartzman, Issa Rae, Daniel Kaluuya and Oscar Isaacs.
Spider-Man: Into The Spider-Verse was a sleeper hit back in 2018, initially opening in the UK and Ireland to £1.2m in its first weekend from 570 locations, going onto gross around $384m (£307m) worldwide and winning the Oscar and Bafta for animated feature.
The last of Marvel's live action Spider-Man features, Spider-Man: No Way Home, took £19.5m in its three-day UK-Ireland opening for Sony from 648 sites, and went on to take over £97m in the territory.
Also new this weekend is Disney's horror The Boogeyman, adapted from a Stephen King short story and directed by Dashcam filmmaker Rob Savage, out at 484 locations. Two sisters are struggling to cope with the recent death of their mother, while their father, a therapist, grapples with is own pain. When a patient turns up at their home, events take a supernatural turn.
Trafalgar Releasing will be screening 'as live' Mozart's Die Zauberflöte (The Magic Flute) from New York's Met Opera on Saturday (June 3) from 135 venues in the UK, with additional delayed live screenings in the following week. Also showing 'as live' this weekend is a Japanese concert from Suga, a South Korean musician and member of BTS. Suga – Agust D Tour 'D-Day' In Japan: Live Viewing is playing on Sunday (June 4) for National Amusements.
Vertigo Releasing is checking Reality into 114 venues. The true story and Berlinale premiere stars The White Lotus' Sydney Sweeney as American whistleblower Reality Leigh Winner, who in 2017 leaked confidential information about the US government's knowledge of Russian interference in the 2016 presidential election.
Altitude opened feature documentary Mad About The Boy – The Noël Coward Story, a chronicle of the playwright, director and wit's life, at 90 cinemas on Thursday (June 1), with 47 playing across the weekend. Barnaby Thompson writes, directs, and produces the feature.
Venice premiere Amanda, a darkly comic Italian coming-of-age story and the debut from Carolina Cavalli, that follows a self-absorbed woman in her 20s looking for purpose, will play for Curzon at 25 sites. Benedetta Porcaroli leads the cast.
Munro Film has Wait For Me at 14 sites in the UK and Ireland. The Manchester Film Festival award winner is the debut feature from Keith Farrell. Set in Yorkshire, the melodrama follows an Irish woman, played by Karen Hassan, who flees sex work.
Miracle Communications and Dazzler Media are teaming up for the release of musical drama Carmen at 33 locations. Paul Mescal and Melissa Barrera star in the Toronto premiere that retells Georges Bizet's 1875 opera for the modern day, taking place in Mexico and the US.
Estonian stop-motion animation The Old Man Movie: Lactopalypse! will be playing for 606 Distribution at 10 sites.
In re-releases, Park Circus has a 4k showing of Ridley Scott's Thelma & Louise, playing 148 sites across the week, while BFI Distribution has Jean-Luc Godard's 1963 French New Wave drama Le Mepris at seven sites. Arrow Films is releasing four Bruce Lee films: The Big Boss at eight sites and Fist Of Fury at two sites on Friday only, and The Way Of The Dragon and Game Of Death at one site apiece on Saturday.
Key holdovers include The Little Mermaid (Disney); Fast X (Universal); Guardians Of The Galaxy Vol. 3 (Disney); The Super Mario Bros. Movie (Universal); and Hypnotic (Warner Bros).