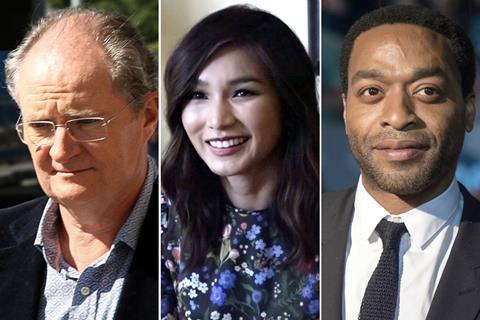 A group of creatives and actors, led by Lenny Henry, have penned a letter to Downing Street calling for the introduction of a diversity tax relief for TV and film.
The letter, signed by 80 signatories and published in The Guardian this morning, was delivered by Henry and actor Adrian Lester at 2pm today. It asks that productions meet three of four criteria to benefit from the "representation tax relief".
The criteria are:
female/BAME/disabled director
female/BAME/disabled writer
female/BAME/disabled director of photography
off-screen staff are proportionate to the UK's makeup in terms of women (50%), BAME individuals (14%) and disabled people (18%)
Other signatories include Doctor Who writer Malorie Blackman, actresses Thandie Newton, Gemma Chan and Meera Syal, disabled presenter Ade Adepitan, actors Jim Broadbent and Chiwetel Ejiofor, and Doreen Lawrence, the mother of Stephen Lawrence, who was on hand yesterday to collect two Grierson awards for BBC1's Stephen: The Murder that Changed a Nation.
They are backed by trade bodies including broadcasting union Bectu, Directors UK and Women in Film & TV UK.
"Complaints over the lack of diversity in the creative industries have seen things slowly begin to change, but the time has come for more substantive measures, and real change needs to be underwritten by law," the letter states.
"We believe a representation tax relief would encourage investment in diverse film and television productions."
Sally Wainwright, Steve McQueen and Michaela Coel are among those held up for helming "some of the most important British television shows and films" in recent years.
Bectu welcomed the proposal but called for "further measures, which hold employers to account on their employment practices".
New head of Bectu Phillippa Childs said that programme-level diversity data provided by reporting system Project Diamond for the UK TV industry should be made publicly available.
"Bectu has been calling for programme-level data on diversity to be publicly made available but has met resistance again and again." she said.
In the UK film industry, producers applying for funding from National Lottery via the British Film Institute (BFI) must meet the Diversity Standards to access support. Film4 has also adopted the Standards. The Bafta Film Awards has added the Standards to its eligibility criteria for its two British film categories, and BIFA has also adopted the Standards for eliigibility for its Best British Independent Film award from 2019. with a pilot year in 2018.
A version of this story originally appeared in Screen's sister publication Broadcast.