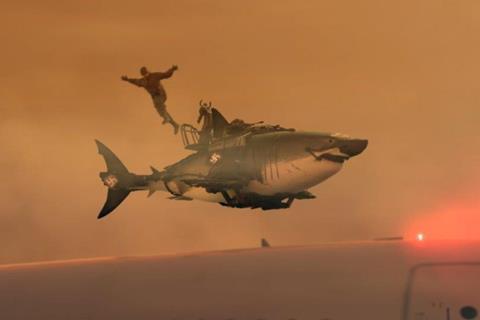 Seven world premieres will screen as part of the UK's Frightfest virtual edition running from August 27-31.
A total of 25 films have been selected for the horror and fantasy film festival. All virtual screenings will be geo-locked to UK audiences, which means the London-based festival will be accessible nationwide for the first time.
Frightfest is also planning a physical event for October which will feature an entirely different line-up.
Now in its 21st year, Frightfest 2020 will open with the UK premiere of Marc Fehse's Sky Sharks, in which flying sharks are piloted by undead super-humans intent on world domination.
Frightfest 2020 - full line up
Sky Sharks (Ger)
Dir. Marc Fehse
There's No Such Thing As Vampires (US) World premiere
Dir. Logan Thomas
12 Hour Shift (US)
Dir. Brea Grant
Triggered (S Afr)
Dir. Alastair Orr
I Am Lisa (US) World premiere
Dir. Patrick Rea
The Columnist (Neth)
Dir. Ivo van Aart
The Horror Crowd (US) World premiere
Dir. Ruben Pla
Blind (US)
Dir. Marcel Walz
Dark Place (Aus)
Dirs. Kodie Bedford, Perun Bonser, Rob Braslin, Liam Phillips, Bjorn Stewart
Don't Click (Can) World premiere
Dir. G-Hey Kim
The Honeymoon Phase (US)
Dir. Phillip G. Carroll Jr.
They're Outside (UK) World premiere
Dirs. Sam Casserly, Airell Anthony Hayles
Playhouse (UK) World premiere
Dir. Fionn Watts, Toby Watts
Two Heads Creek (Aus)
Dir. Jesse O'Brien
Aquaslash (Can)
Dir. Renaud Gauthier
Skull: The Mask (Braz) World premiere
Dir. Armando Fonseca
Hail To The Deadites (Can)
Dir. Steve Villeneuve
Hall (Can) World premiere
Dir. Francesco Giannini
Clapboard Jungle: Surviving The Independent Film Business (Can)
Dir. Justin McConnell
A Ghost Waits (US)
Dir. Adam Stovall
AV: The Hunt (Turk)
Dir. Emre Akay
The Swerve (US)
Dir. Dean Kapsalis
Dark Stories (Fr)
Dirs. Guillaume Lubrano, François Descraques
Blinders (US)
Dir. Tyler Savage
Enhanced (Can)
Dir. James Mark
Additional online content will include Q&As, guest introductions and a short film showcase.
Frightfest's headline sponsor is Arrow Video.