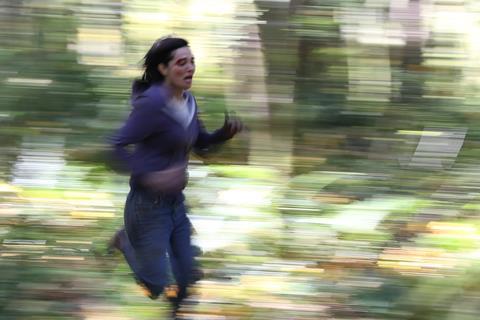 UK genre film festival Grimmfest has revealed the line-up for its 2020 edition, which will take place online due to the Covid-19 pandemic.
Scroll down for full line-up
The festival, which runs October 7 to 11, will open with the European premiere of US psychological thriller Alone, directed by John Hyams, in which a grieving widow is pursued through the wilderness by a relentless psychopath.
Grimmfest has also secured four world premieres for this year's edition, which include US features The Special, from filmmaker B. Harrison Smith, and They Reach, directed by Silas Dall. Others include Death Ranch, from UK filmmaker Charlie Steeds, and Malaysia-US horror The Medium, directed by Brando Lee.
The festival usually takes place in Manchester over four days in October but will screen its 23-strong programme of titles online due to the virus crisis.
Grimmfest has teamed with virtual cinema firm Eventive to host the festival, which will geo-block screenings in the UK and stream both live Q&As and pre-recorded interviews across the four days.
Confirmed guests include US horror writer-director Mick Garris and actors Lance Henriksen (Aliens), Pollyanna McIntosh (The Walking Dead), Caroline Williams (Texas Chainsaw Massacre 2) and Adriene Barbeau (The Fog). It will also host a panel on Iconic Women In Horror and two short film programmes.
Grimmfest chief programmer Steve Balshaw said: "It's been a challenging process translating the Grimmfest experience into an online festival… but we're truly proud of this year's line-up.
The festival plans to host its next live event at Manchester's Odeon Great Northern in spring 2021.
Grimmfest previously launched a streaming platform in the first weeks of lockdown, offering horror films and shorts for free following the closure of cinemas nationwide.
Grimmfest 2020
The Medium (Mal-US) World premiere
Dir: Brando Lee
Death Ranch (UK-US) World premiere
Dir: Charlie Steeds
The Special (US) World premiere
Dir: B. Harrison Smith
They Reach (US) World premiere
Dir: Silas Dall
Alone (US) Opening night film
Dir: John Hyams
An Ideal Host (Aus)
Dir: Robert Woods
HP Lovecraft's The Deep Ones (US)
Dir: Chad Ferrin
Ten Minutes To Midnight (US)
Dir: Erik Bloomquist
Unearth (US)
Dir: John C. Lyons, Dorota Swies
Rent-A-Pal (US)
Dir: Jon Stevenson
Revenge Ride (US)
Dir: Melanie Aitkenhead
Urubu (Sp)
Dir: Alejandro Ibáñez
The Oak Room (Can)
Dir: Cody Calahan
The Unhealer (US)
Dir: Martin Guigui
Fried Barry (S Afr)
Dir: Ryan Kruger
It Cuts Deep (US)
Dir: Nicholas Santos
Ropes (Sp)
Dir: José Luis Montesinos
I Am Ren (Pol)
Dir: Piotr Ryczko
Anonymous Animals (Fr)
Dir: Baptiste Rouveure
Stray (Rus)
Dir: Olga Gorodetskaya
Triggered (S Afr)
Alastair Orr
12 Hour Shift (US)
Dir: Brea Grant
The Horror Crowd (US)
Dir: Ruben Pla