The American Society Of Cinematographers has announced the honorees for the 31st annual ASC Awards for Outstanding Achievement.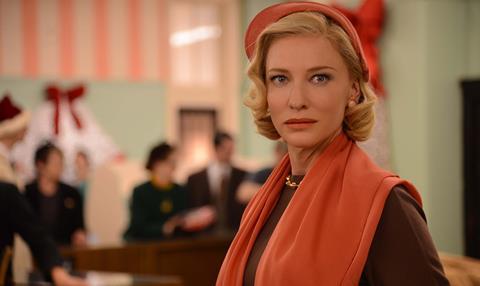 Carol cinematographer Edward Lachman, Ron Garcia, Philippe Rousselot and Nancy Schreiber will be recognised for their contributions to the art of cinematography at the awards gala in Los Angles on February 4, 2017.
Lachman will receive the Lifetime Achievement Award, Garcia the Career Achievement in Television Award, Rousselot the International Award, and Schreiber the Presidents Award.
"The work of these individual cinematographers is varied, yet it all exemplifies a stellar level of achievement," said ASC President Kees van Oostrum. "As a group, they also are a prime example of great careers in the industry and, over the years, they have set creative standards of the highest order."
Lionsgate CEO Jon Feltheimer has extended his contract through May 2023, effective immediately. Feltheimer has served 16 years in the role.
Chris Rock and Netflix have struck what is reportedly a $40m deal for two stand-up comedy specials to air worldwide. The first will record in 2017 following a world tour.
World premieres of City Of Joy and HBO's Every Brilliant Thing are among a line-up of more than 250 films and events at the seventh DOC NYC festival in New York from November 10-17. Citizen Jane: Battle For The City and Chasing Trane: The John Coltrane Documentary bookend the event. Click here for further details.
FUSION and Univision top brass said on Thursday that Catherine Tambini's documentary Hate Rising will receive its television premiere on October 23 via dual broadcasts on FUSION in English and Univision Network in Spanish. Hate Rising will open theatrically in Los Angeles on October 14 and in New York on October 21 and explores the rise of hate in the US.
First Look Media and Dan Powell have struck a first-look deal under which the producer will developfilm, TV and digital projects. Short-form animated series The Nib and a short-form scripted series will kick off the arrangement. Powell is also in negotiations to write a feature drama based on a pre-existing property.
The Center For Asian American Media and Comcast NBCUniversal are hosting a forum on diversity entitled Expanding The Conversation: Asian Americans In Media on the Universal Studios lot in Los Angeles on November 2. Participants are expected to include Sandra Oh, director Grace Lee, and NBCUniversal senior vice-president of talent development and inclusion, Karen Horne.
IAC-owned Electus announced on Thursday a partnership with Queen Latifah and Shakim Compere's company Flavor Unit Entertainment and Principato-Young Entertainment to adapt the Singaporean hit series The Kitchen Musical for the US market.
Los Angeles-based MarVista Entertainment has hired former Esquire Network senior executive Deena Stern as senior vice-president of marketing and communications. The executive suite includes recent hire of Kenny Christmas as senior vice-president of business and legal affairs and recently promoted Hannah Pillemer as senior vice-president of development and production. The company recently signed a deal with Elijah Wood's SpectreVision to complete four films within the next two years.