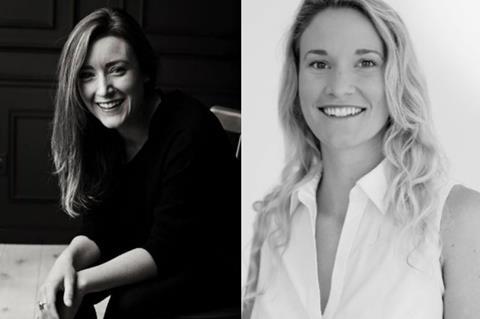 LA-based Valparaiso Pictures, producers on Pig and The Line, have partnered on an inaugural script lab with organisers Christina Campagnola and Emery Matson.
The 2019 participants in the Writers Out Of Office lab (WOOO), set to take place in Joshua Tree, California, from October 11-14, were announced on Friday (11).
Former literary agent Campagnola (pictured at left), and Matson, a former development executive, launched the lab to champion unique voices, and integrate discussions and wellness activities aimed to strengthen the writers' sense of self.
Valparaiso Pictures principal David Carrico and head of development Bobby Hoppey are on board as lab partners. The company's pipeline includes Nicolas Cage and Alex Wolff drama Pig, currently in production, and Wolff and John Malkovich in thriller The Line.
"The first goal of the lab is easy to measure – writers will leave with a refined script that reflects a strong point of view," said Matson. "The second goal of the lab, however, is focused on artistic development. After spending time in an environment that allows writers to ask themselves deeper questions about their process, voice, and career, they should leave with a more conscious approach to storytelling."
The five participants and their projects were selected through nominations from a diverse group of industry executives. They are:
Aaron Silverstein / Neon Shroud
Feature
As the world falls apart in the grip of a mysterious virus, two people forced to act as messenger and executioner on behalf of an omnipotent pharmaceutical company use their power to prolong the lives of those they love.
Caroline Keene / Cream
Feature
After witnessing what they think is a murder, two desperately bored teenage girls find themselves caught in the middle of a cut-throat, cosmetics Ponzi scheme that promises beauty, power, and that unattainable Mercedes-Benz.
Laura Davis / Amor Fati
Feature
When a celebrated intellectual learns she has terminal cancer, she must wrestle with her worldview and earn back her family's love before it's too late.
Justin Kohlas / Horizon
Pilot
When several terminally ill residents of a small Ohio town suddenly disappear, their distraught community must confront the possibility of an otherworldly explanation – especially after one of them resurfaces miraculously healed.
Yvonne Hana Yi / Free Diver
Animated Feature
An animated feature inspired by the elderly women divers of Korea's southern islands. When a curse hits her fishing village, a curious young girl must learn her grandmother's traditions to save her family and her home.