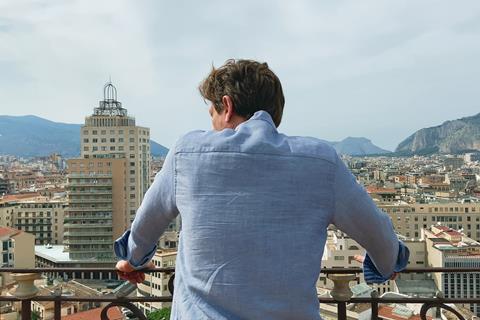 A short film shot by Luca Guadagnino during lockdown and a US school shooting feature have been added to the lineup of the 77th Venice Film Festival in out-of-competition slots.
Fiori, Fiori, Fiori! is a 12-minute short by Guadagnino, the Italian filmmaker behind the Oscar-nominated Call Me By Your Name whose Suspiria and A Bigger Splash previously played in competition at Venice.
The short saw Guadagnino travel from Milan to Sicily with a small crew during lockdown. Using just a smartphone and a tablet, they knocked on the doors of the filmmaker's childhood friends to capture their experience of the global pandemic. Those appearing in the short include actors Maria Continella, Natalia Simeti, Claudio Gioè and Dave Kajganich.
Guadagnino feature-length documentary Salvatore – Shoemaker Of Dreams - about legendary designer Salvatore Ferragamo - was previously selected to play out of competition at this year's Venice.
In addition, US feature Run Hide Fight has also been added to the festival's lineup. Directed by genre filmmaker Rankin, the film stars Isabel May as a teenager whose high school is attacked by four students with guns, who plan to make their siege the worst school shooting in history.
Produced by Cinestate's Dallas Sonnier (Brawl In Cell Block 99, Dragged Across Concrete), the cast also includes Thomas Jane and Radha Mitchell. World sales are handled by Voltage Pictures.
The 77th Venice Film Festival is set to run September 2 to 12.