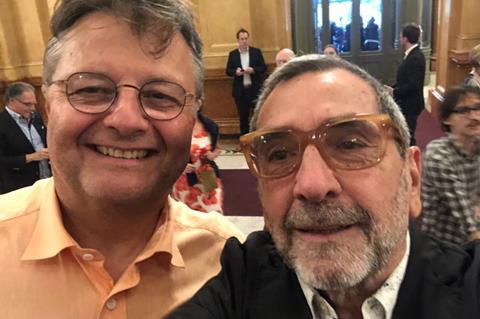 Ventana Sur will stage physical screenings at seven international cities during an otherwise entirely online edition that starts later this month.
Jerome Paillard and Bernardo Bergeret, the annual market's co-directors who traditionally host the event in Buenos Aires, are planning 30-40 daytime screenings in each of Paris, Rome, Madrid, Mexico City, Sao Paulo, Bogota, and Santiago.
Paillard (pictured) and Bergeret planned the screenings in the absence of a physical market this year due to the pandemic. Films are likely to hail from Europe and Latin America and will be announced shortly.
Argentina remains under lockdown and recently passed the notorious threshold of one million Covid cases, joining the likes of the US, UK, Russia, India, Brazil, France, Spain, and Colombia.
"In each of those cities we will have two or three screens depending on the city for three or four days," Paillard told Screen. "And we'll be able to choose screen 30 to 40 films in each city for the distributors, sales agents who are interested.
"We got very positive answers from the professionals because they are so tired to watch films online that they are quite happy that we can bring the films in their city. And of course, the plan is to have the screenings during the day so we will not be impacted by the curfew. And of course we hope that cinemas will still be open in December during the day. I think it should be okay."
Bergeret added, "We'll recreate the social environment, the atmosphere of real markets this time in seven cities all around the world."
Ventana Sur plans a full complement of sections and conferences and has already announced post-production showcases Primer Corte and Copia Final, Animation!, Blood Window Lab, selections in the inaugural Punto Genero section promoting Latin American women and non-binary people, and projects in co-pro forum Proyecta (in partnership with San Sebastian Film Festival). The market runs from November 30-December 4.